The error "Can't read profile path" occurs during the launch of the recently released Farming Simulator 22. Translated into Russian, the error message means "it is impossible to access the location of the profile." Simply put, Farming Simulator 22 cannot be launched because something on the player's PC prevents it from accessing important configuration files.
Solving the "Can't read profile path" error in Farming Simulator 22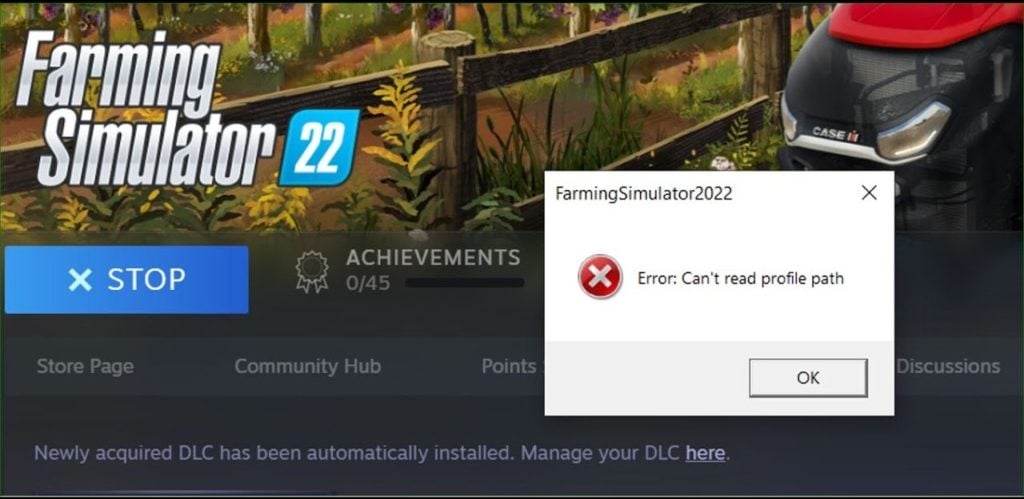 System antivirus. This error in the latest iteration of the farming simulator is usually caused by Windows Defender Antivirus. All you need to do is add a couple of executable files of the game to the antivirus exclusion list, and the trick is in the bag. This can be done as follows:
press WIN + I on the keyboard to open the "Options" section;
go to the "Update and Security" section, then – to the "Windows Security" subsection;
click on the item "Protection against viruses and threats";
go down to the very bottom of the new window and click on the item "Manage protection against ransomware";
then click on the item "Allow the application through controlled access to folders";
click on "+ Add an allowed application" and select "View all applications" from the drop-down menu;
add the executable files "FarmingSimulator22.exe" (in the root folder of the game) and "FarmingSimulator22Game.exe" (in the x64 folder) to the list of exclusions;
close all open windows and start the game.
Farming Simulator 22 will start without any problems – no "Can't read profile path" error will occur.