CE-35287-5 on PlayStation 4 – how to fix the error?
Error CE-35287-5 occurs on PS4 when trying to sign into a PSN account. An extremely serious problem: without authorization in the PSN service, the player will not be able to run games on his console and use its network functions.
Causes of error CE-35287-5
The player entered the wrong username and password when logging into PSN.
PSN account has not been verified.
Problems on PSN servers.
Methods for solving error CE-35287-5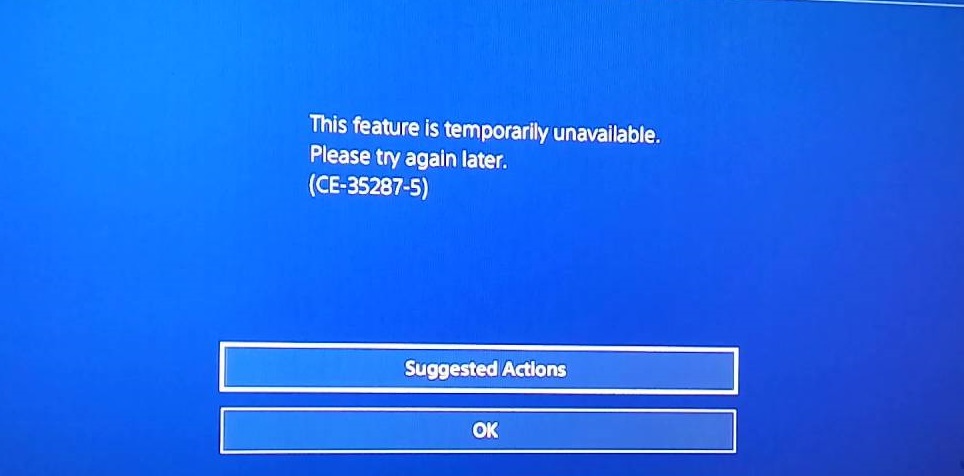 Method #1 PSN Account Verification (for players without accounts)
In order to be able to log into PSN under his account, the player must necessarily verify this account.
Create a PSN account by following link;
select country and date of birth (PSN checks the age of all registered players);
write down your personal e-mail and set a password convenient for you;
then indicate the place of your residence (city, postal code, etc.);
select a nickname, enter a first and last name (do not be afraid to enter real ones);
check the boxes next to the relevant items if you want to receive notifications about new products, special offers and other promotional materials, and click on the "Agree and create an account" button;
now go to your inbox and click on the link in the email from SONY to verify your newly created PSN account.
If you did everything correctly, you will see a message about successful account verification. Try logging into PSN on your PS4 and check for error CE-35287-5.
Method #2 Email Address Verification
There are a huge number of players who created a PSN account, but did not pass verification by clicking on a unique link (it was mentioned above ↑). To verify an existing account, you must do the following:
Go to your email inbox and open the email sent to you by SONY.
There will be a very (!) long link that you need to follow, or a "Verify Now" button.
As soon as you do this, your PSN account will be verified – you will see the corresponding message.
Method #3 Restarting the Router
In some cases, the CE-35287-5 error can appear on PS4 due to the player's router not working properly. In this case, you need to reboot your router. Press the power button on the device, wait a few minutes (no more than 10) and press the power button again. Wait another minute or two until a stable wireless network connection is established and check for the problem on your PS4.
All of the above methods are tried and tested and after applying them error CE-35287-5 should be gone from your PS4.