Crashes, low FPS, connection errors and more in Tribes of Midgard
A few days ago, the release of Tribes of Midgard – a brand new cooperative toy, which combines such popular genres as action, survival, tover defense and roglike. At the moment, the game has not the most flattering reviews on Steam – they are partly due to unpleasant technical problems.
But what exactly do we mean by "problems"? Connection errors, loading screen freezes, low FPS – this and all the others have to deal with players in Tribes of Midgard at the moment. The problems are serious enough and something needs to be done with them. You can do the following: wait for a patch from the developers and hope for the best, or try to fix the problems yourself.
Today we will deal with the second option …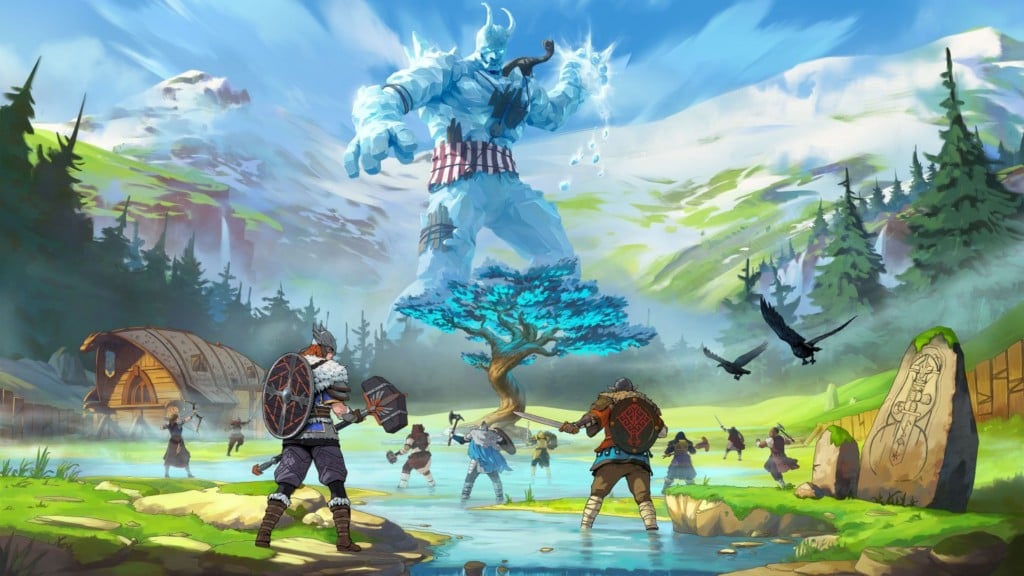 Tribes of Midgard system requirements
First of all, we need to figure out if your PC can work normally with the new Tribes of Midgard.
Minimum system requirements
OS: 64-bit Windows 7
Processor: Intel Quad Core i5-2300 or AMD FX-6300
RAM: 8 GB of RAM
Video card: Nvidia GeForce GTX 560 (1GB) or AMD Radeon HD 7770 (1GB)
DirectX: Version 11
Network: Broadband internet connection
Disk space: 8 GB
Sound Card: DirectX® Compatible
Recommended system requirements
OS: 64-bit Windows 10
Processor: Intel Quad Core i5-2300 or AMD FX-6300
RAM: 8 GB of RAM
Graphics Card: Nvidia GeForce GTX 780 Ti / 970 (High Settings) and 1070 (Ultra Settings) or AMD R9 290 / AMD RX480 (High Settings)
DirectX: Version 11
Network: Broadband internet connection
Disk space: 8 GB
Sound Card: DirectX® Compatible
As you can see, almost all players on personal computers will be able to play Tribes of Midgard, including owners of budget game assemblies. Well, we figured out the requirements – it's time to move on to solutions to the most common problems.
Connection error in Tribes of Midgard
Some online players are complaining that they cannot connect to an existing Tribes of Midgard game. And it doesn't matter if you are trying to connect to your friend or some random person. Unfortunately, we have to disappoint you: the network code of the Tribes of Midgard is, to put it mildly, "lame". Most players either sit in the lobby in splendid isolation, or connect to games whose hosts are located on the other side of the world from them (high ping).
Is there anything you can do about it? The answer is not that. You just have to sit and wait until you can connect to the desired lobby or when the right players connect to you. True, not every player has the patience for this, but nothing more can be advised at the moment. Developers "messed up" – you need to wait for the patch.
Loading freezes, crashes and low FPS in Tribes of Midgard
In addition to connectivity issues, some players claim that they have Tribes of Midgard freezing during one of the loading screens. Others say that their game, for some reason, refuses to run at normal frame rates, even though their PC meets the system requirements. Still others complain that their game crashes at startup or during gameplay.
It turns out that such "dilemmas" can arise for a variety of reasons: lack of up-to-date video drivers, problems on servers, a bug in the game itself, and more. Here's what we recommend for you:
update your graphics card drivers using the following links:
restart Tribes of Midgard to fix a potential game bug;
install all pending Windows updates;
lower the graphics settings of the game, change the resolution;
disable Steam overlay for Tribes of Midgard;
deactivate the OpenH265 video codec and game overlay in Discord (if you have one).
Things are not going well for Tribes of Midgard right now, but the situation should improve over time, according to the developers' claims. If none of the above helped you and you still cannot play Tribes of Midgard normally, then we recommend that you postpone the game, so to speak, for later and humbly wait for updates and fixes.
Earn points and exchange them for valuable prizes – details