Error 0x80073cfe in Windows 8, 10, 11
The 0x80073cfe error is related to the Microsoft Store. It prevents the installation of any programs: a failure can occur either before the installation, or immediately or some time after it. The utilities may even disappear from the desktop after a seemingly successful installation. Technical support representatives and forum experts have suggested many ways to deal with the problem, but almost all of them don't work. In fact, there are a couple of simple and effective solutions that one of the users suggested and many have confirmed its effectiveness.
How to fix error 0x80073cfe in Windows 8, 10?
There are 2 effective tactics in dealing with 0x80073cfe. Both have high chances of being successful, but according to our observations, the first option is more likely to succeed.
Move the program to the system drive
Most likely all you need to do is move the problematic program to the system logical drive and here's how you can do it.
Step-by-step instruction:
Opening the Microsoft Store.
Go to the "Settings" section on the "System" tab.
We select the item "Storage" and select the option with an external drive.
We open the list of applications. At this stage, you will have to wait a bit until the entire list of programs is built.
Among the list we find the program that encountered an update or installation error.
Select the utility and click on the "Move" option.
We indicate as a directory the place where the operating system is installed.
We try to update again.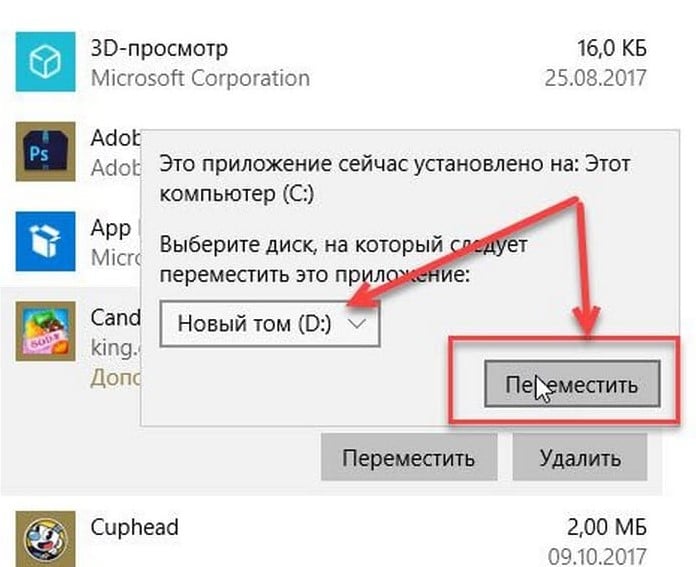 Another useful tip is to clear the store cache. Although this method has a lower chance of success, it does exist. You just need to run the wsreset.exe file, which we can find by searching in Windows.
Working with services
This method was suggested by a Microsoft technical expert, and we personally saw thanks for this technique in third-party forums. In this case, the procedure is simple to disgrace – you need to enter a series of commands, after each pressing Enter.
net stop wuauserv

net stop cryptSvc

net stop bits

net stop msiserver

ren C: Windows SoftwareDistribution SoftwareDistribution.old

ren C: Windows System32 catroot2 Catroot2.old

net start wuauserv

net start cryptSvc

net start bits

net start msiserver
Now is the time to check if the process of installing or updating programs is not interrupted by error 0x80073cfe.
So far, we have managed to identify only 2 really working methods for fixing error 0x80073cfe in Windows 8, 10, 11. However, we do not exclude the fact that there are situations in which even the listed fixes do not work. It is for this reason that we hope for your help. Please describe your situation, what you tried, whether you found a solution and under what circumstances the error appears.