Error 0x800f0988 when updating Windows 10: solutions
When updating Windows 10, you may receive error code 0x800f0988. Fortunately, this problem can be easily treated with a couple of tried and tested methods.
Eliminating error 0x800f0988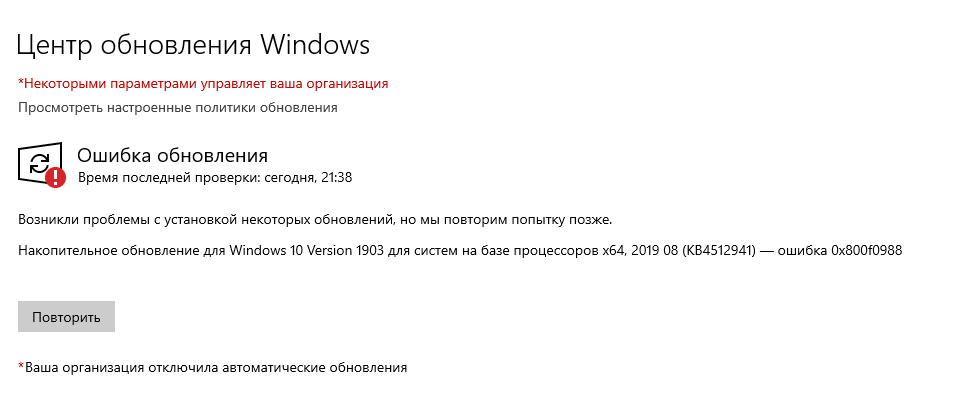 Method # 1 Run the troubleshooter
We advise you to start with something easier, which is using the Windows Update troubleshooter. It is a system tool that will scan your Windows OS and automatically find the right solution.
Press Windows + R on your keyboard to bring up the Run window. Next, write in this box the value ms-settings: troubleshoot and press Enter. Find the item "Windows Update" and select it by clicking the left mouse button, then click on the "Run the troubleshooter" button.
Wait for the tool to finish checking Windows, then apply the solution that it prompts you for. This can be some specific action or just clicking on the "Apply this fix" button. Once you're done using the tool, restart your computer and check for error 0x800f0988.
Method # 2 Run Component Store Cleanup
In the top ten, you can find a folder called WinSxS (component store), which contains backup copies of Windows system files before updating. This is done so that the user has the opportunity to uninstall the last update and roll back to the previous OS version.
However, in some cases, these backup files can interfere with the normal operation of Windows 10, and therefore the system has a task called "StartComponentCleanup", which in translation will sound like "Start cleaning the component store." There are two ways to accomplish this task: through the task scheduler or through DISM. Let's take a look at both of these methods.
Cleaning up the component store via the task scheduler
Press the combination Windows + R;
write down the value taskschd.msc and press Enter;
having opened the window of the task scheduler in front of you, go through the following path:

↓ Task Scheduler Library;
↓ Microsoft;
↓ Windows;
↓ Servicing;

right-click on the "StartComponentCleanup" task and select the "Run" option;
wait for the task to finish and try updating your Windows again.
Cleaning up the Component Store via DISM
Right-click on Start and select "Command Prompt (Administrator)";
write the command dism / online / cleanup-image / startcomponentcleanup and press Enter;
restart your computer and try to update.
We hope this article was helpful in resolving error 0x800f0988.
Earn points and exchange them for valuable prizes – details