Error 0x803FB005 in Windows 10: causes and solutions
Error 0x803FB005 occurs when a user tries to download an app from the Windows Store. Some argue that the error appears for no reason, others – during the installation of certain applications. This error occurs exclusively on Windows 10.
What causes error 0x803FB005?
There are several reasons behind error 0x803FB005:
there is no special patch from the developers in the system;
conflict with third-party antivirus;
a bug in the Windows Store;
damage to system files.
Error 0x803FB005 is far from the most pleasant problem, however, it can be solved using the methods below.
Ways to resolve 0x803FB005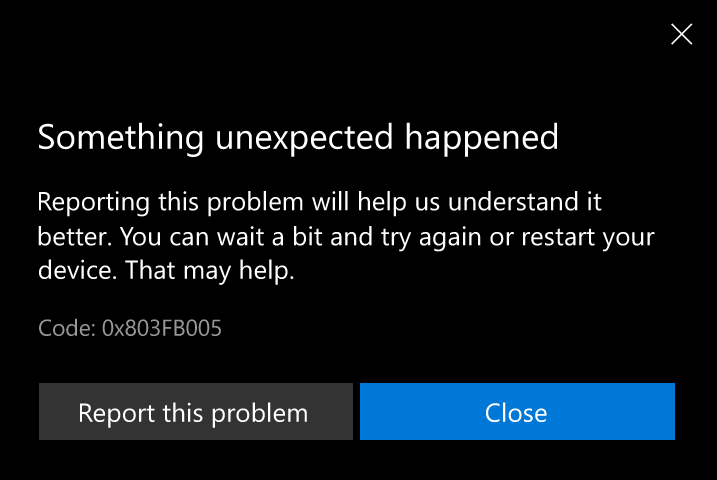 In this article, we'll take a look at four of the most effective solutions for the error in question. Please adhere to the order of execution indicated in the article.
Method number 1 Troubleshoot store problems
There might be some problem with the Store app. In this case, you can use the functionality of the system troubleshooter. Follow these steps:
right click on Start and open system settings;
go to the "Update and Security" section;
click on the "Troubleshooting" tab;
go down below and click on the item "Applications from the Windows Store";
click on the "Run the troubleshooter" button;
wait until the tool finishes working and click on the "Apply this solution" button;
restart your computer after applying the provided solution.
Open the Store and check if the error 0x803FB005 has disappeared. Not? Moving on …
Method # 2 Installing all pending updates
All sorts of errors can occur in Windows 10 due to the lack of certain updates. Let's try to install all available updates for your system. To do this, follow these steps:
press the combination Windows + R;
write the value "ms-settings: windowsupdate" and press Enter;
click on the "Check for Updates" button;
follow the instructions that appear on your screen.
During the update installation process, your PC may reboot – this is completely normal. Once you've finished installing all available updates, launch the Windows Store and check if the error 0x803FB005 has been resolved.
Method number 3 Disable antivirus
Some third-party antiviruses have a habit of being overly caring, so much so that they start blocking the installation of apps from the Store. To check this possibility, it is enough to disable your antivirus while installing the application you need. Try disabling your antivirus on your Windows 10 and see if that helps.
Method number 4 Reset Windows Store
Nothing helped – what to do in this case? If all of the above methods did not have the desired effect, then you can try resetting the Windows Store app. Fortunately, this is easy to do with a single command from the Command Line. Try the following:
right-click on Start;
select "Command line (administrator)";
write the command "wsreset.exe" and press Enter;
close Command Prompt and Windows Store, and then restart your computer.
As a rule, the latter method successfully copes with error 0x803FB005.
Earn points and exchange them for valuable prizes – details