Error 0xc00d36b4 when opening audio / video on Windows 10
Windows 10 users are experiencing error 0xc00d36b4 when they try to open certain files through the Groove Music app. The player will automatically skip the file causing this error if it is in the playlist.
What causes error 0xc00d36b4?
Groove Music does not support the launch file format.
A bug in Windows Media Player (critical component for Groove Music).
Conflict between codecs in Groove Music.
Glitch in default audio format.
Methods for solving error 0xc00d36b4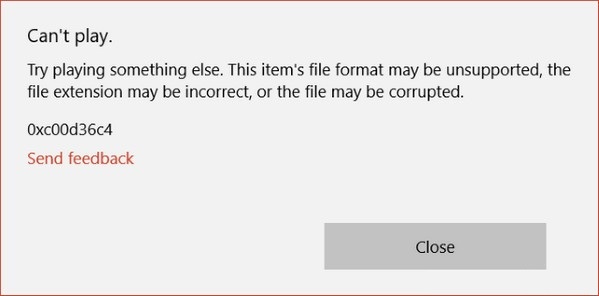 Method # 1 Checking the file format
In most cases, Windows 10 users encounter error 0xc00d36b4 because they try to run a file in Groove Music that is not supported by the player. Here is a list of formats supported by Groove:
.mp3
.flac
.aac
.m4a
.wav
.wma
.ac3
.3gp
.3g2
.amr
Didn't find your file format in the above list? Then it should come as no surprise that you run into problems. In this case, you can either find the desired file in a different format, or use a converter.
Method # 2 Re-enable Windows Media Player
Groove Music is powered by a system component such as Windows Media Player. Sometimes this component may freeze or start functioning completely incorrectly. You need to reconnect Windows Media Player on your system and see if that fixes the error.
Try the following:
press Windows + R to open the Run window;
write in appwiz.cpl and press Enter;
click on the line "Enabling or disabling Windows components";
find the section "Components for working with multimedia" in the list and expand it;
uncheck the Windows Media Player component;
restart your computer;
go back to Windows Components and activate Windows Media Player;
restart your PC again.
Try opening the file you want in Groove Music to check for error 0xc00d36b4.
Method # 3 Removing Nero Codecs (if applicable)
It turns out that Groove Music is not very friendly with the codecs supplied by Nero. Some users claim that they managed to get rid of error 0xc00d36b4 by removing Nero codecs, such as Nero Digital, from their computer.
It is possible to remove Nero codecs (like any other software) in the "Programs and Features", which can be accessed as follows:
press Windows + R;
write in appwiz.cpl and press Enter.
Once you get rid of the codecs, restart your computer and check for error 0xc00d36b4.
Method # 4 Changing the default audio format
Some users managed to get rid of error 0xc00d36b4 on their computers after changing the default audio format. It seems that these settings are somehow causing problems when opening files in the Groove Music app.
So, try the following:
press Windows + S to call the system search engine;
write the request "Sound playback parameters" and select the found result;
go down in the window and click on the line "Sound control panel";
double click on your audio device, such as speakers or headphones;
go to the "Advanced" tab;
in the drop-down menu of the default format, select some other bit depth than the one that is currently in use;
apply the changes and check for the problem in Groove Music.
It works, of course, not in every case, but just such actions helped certain users in the fight against error 0xc00d36b4.
Earn points and exchange them for valuable prizes – details