Genshin Impact Technical Troubleshooting Guide
Genshin Impact features an extremely interesting mix of gameplay elements from the acclaimed 2017 The Legend of Zelda: Breath of the Wild for Nintendo Switch and the traditional Chinese gacha games that have flooded the mobile games market. Currently, Genshin Impact can be found not only on mobile devices, but also on personal computers and even consoles.
Genshin Impact is a multiplayer video game that requires a constant connection to the Internet, and therefore, during its operation, all sorts of network problems are observed every now and then, such as problems connecting to game servers, lengthy downloads of necessary data, and much more. In today's article, we'll take a look at how to fix the most common technical issues with Genshin Impact.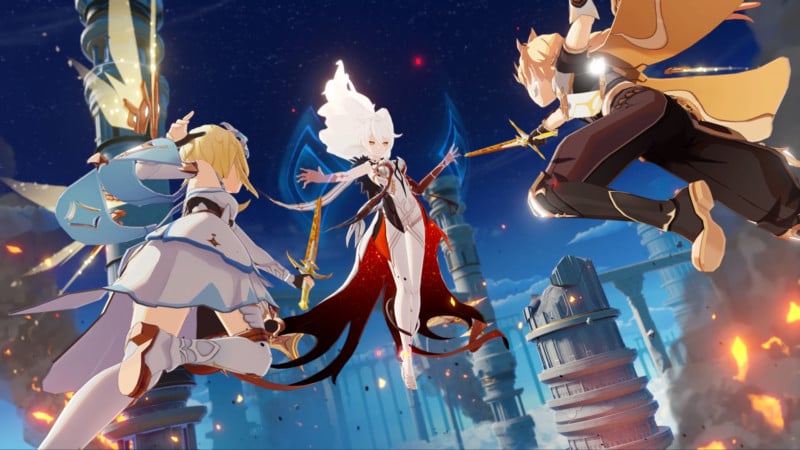 Genshin Impact does not start / is not verified / is not updated
That's right, this time at one point we are looking at three whole problems. A huge number of users complain that Genshin Impact simply does not start for them. Others claim that after starting the game, they get the error "Failed to check for Updates", which can be translated into Russian as "Failed to check for updates." And some even say that when they try to fix the game, a message appears in front of them about the impossibility of verifying the game files.
One way or another, in all three cases, Genshin Impact cannot be launched. Fortunately, a supposedly working solution for this problem has been found on the game's forums. All you have to do is completely uninstall the game from your computer and reinstall it. Yes, it will take some time, but as practice shows, it works.
Genshin Impact Launcher crashes
On the net you can find complaints about the Genshin Impact launcher, for example, about the appearance of the error "Couldn't Verify Files" and the fact that it simply does not work. Here's what you can try:
run directly the executable file of the game (GenshinImpact.exe);
run the launcher as administrator;
restart the router, if available;
restart your computer;
install Genshin Impact on the system partition of your disk.
Well, if none of the above helps you, wait. Wait and hope that the developers at miHoYo will soon release an update that fixes similar issues with the launcher for Genshin Impact, or increase the capacity of their servers, because this may be the case.
Slow loading Genshin Impact
Notice how Genshin Impact is loading slowly? Sorry, but there probably isn't much you can do here. The problem lies in the servers of the game developers themselves. If they increase the capacity of the servers, everything will be resolved by itself. If not, you'll have to endure slow loading. However, some players claim that they managed to speed up the loading of Genshin Impact somewhat by disabling the Windows Defender system firewall. Try disabling the firewall on your Windows OS and see how it affects the loading speed of the game.
No co-op / multiplayer in Genshin Impact
We previously stated that Genshin Impact is a multiplayer game. But where is the multiplayer / co-op? The fact is that the player gets access to this functionality only at the 16th level of the adventure. Simply put, you have to play some time before you can play with your friends. Nevertheless, you can always add almost any user to your friends list – no one takes this right away from you.
Once you reach level 16 of the adventure, multiplayer will open up for you in the Paymon menu. Everything here is the same as in other multiplayer games: you can join other players or send them invitations to connect to your game, plus you can set various co-op settings to maximize the personalization of the experience from the game. By the way, the level of adventure does not play a special role in multiplayer. The pumping of this level occurs exclusively through the passage of story tasks and the study of the game world.
Genshin Impact and microtransactions
Now let's talk about the not-so-pleasant thing about Genshin Impact, namely microtransactions. Whether you like it or not, they are closely related to the gameplay of this gacha game. New characters and equipment can be obtained simply by playing Genshin Impact, however, prayers allow you to do this faster. Prayers work on the principle of a slot machine – you can use them to knock out items and heroes of various rarities with them. Let's take a look at the odds of a knocked out rarity:
three-star character / item – 94.3%;
four-star character / item – 5.1%;
five star character / item – 0.6%.
In general, with such meager chances, the process of rerolling the initial heroes may not be the fastest and not the most pleasant process. In addition to characters, weapons and other items, you will receive the so-called stardust, which can easily be exchanged with Paymon for all sorts of useful things. Genshin Impact has a whole bunch of different currencies – and most of it can be obtained simply by playing the game!
But crystals – they are bought only for real money. Crystals can be used to buy new heroes and items. In addition, crystals can be used to purchase a blessing, activating which you will receive ninety source stones every day for a whole month. The price of the blessing is 300 crystals, and they will cost five real dollars.
Is Genshin Impact a cross-platform project?
Can users on different platforms play with each other? Players on PC and mobile devices can indeed enter into a co-op game (and from a PC you can transfer saves to a smartphone!), But the owners of the Playstation 4 console cannot do this. Such players, unfortunately, will have to be content with the company of other PS4 owners.
Earn points and exchange them for valuable prizes – details