How do I fix "An unexpected error has occurred" on Steam?
When purchasing a game on Steam, the message "An unexpected error has occurred. Your purchase is incomplete. " This message means that Steam, for one reason or another, was unable to process the transaction, funds from your account were not withdrawn, and no game was added to your library.
What Causes "An unexpected error has occurred" on Steam?
An error or bug has occurred during a transaction between the user and the Steam store.
A proxy or VPN is used on the user's computer.
Steam servers responsible for processing various transactions are experiencing temporary problems.
How do I fix "An unexpected error has occurred" on Steam?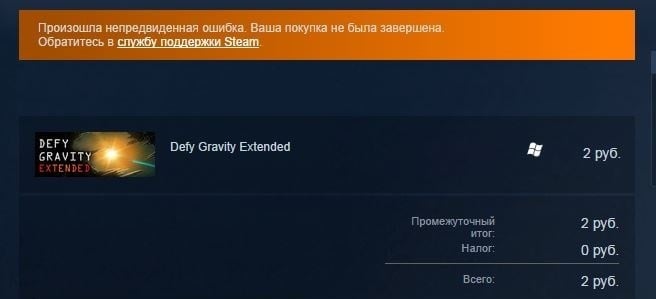 Solution # 1 Repeat purchase (or wait!)
I would like to ask you a question: have you tried to make a purchase again? The fact is that sometimes during the purchase process on Steam, all sorts of bugs can arise that prevent the normal completion of the transaction. Go to the main page of the store, then go to the shopping cart and try to complete the purchase again.
This is often the method that helps users. If the error occurs a second time, then we advise you to wait a little and then repeat the purchase again. Perhaps there are some problems on the Steam servers and the specialists there are currently trying to fix them.
Solution # 2 Disable VPN and proxy
Are you using VPN or proxy services? If you want to buy something on Steam, then you will have to deactivate them. The fact is that Valve does not allow purchases from disguised IP addresses. Unfortunately, there is no other way out of this situation.
Decision # 3 Contacting those. support
Nothing helped? Then we advise you to contact the specialists of the Steam store for help. Go to this link to the Steam support page. Using the pre-prepared points, describe your problem and send a support request. Then everything will depend solely on the employees processing your request, but, one way or another, they will help you.
Earn points and exchange them for valuable prizes – details