How do I get rid of Error 2002G in Battlefield 2042?
Error 2002G appears in the brand new Battlefield 2042 when a player tries to connect to a particular game server. Sometimes the error alternates with other codes, for example, 4c or 13c, but there is not much difference between them. You can see the following information in the 2002G error message:
Unable to load data. You will be redirected to the main menu. Check your internet connection, make sure the platform client is online, and try again. See ea.com/unable-to-connect for details

Error code: 2002G
How to fix Error 2002G in Battlefield 2042?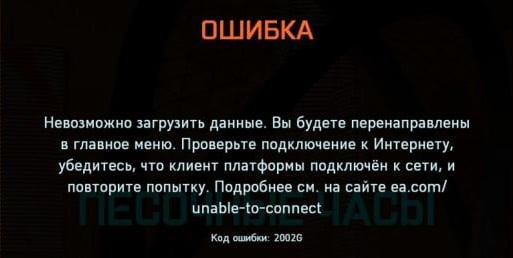 The most effective solution for the 2002G error in Battlefield 2042 is to wait. In most cases, the appearance of this code means that there is some kind of problem on the game servers, and nothing is required from the users except to wait for the problems to be solved by the EA / DICE technicians.
While waiting, users are advised to check the status of the servers on the official EA support page…
Nevertheless, if you encounter error 2002G in Battlefield 2042 even after a long wait (up to several hours), plus the support site states that there are no problems with game servers, then you can use the following general solutions:
examination account lockout;
check for subscriptions on Xbox Live, PlayStation Plus, Nintendo Switch and EA Play;
restarting the router;
changing the addresses of DNS servers.
Wait and error 2002G should disappear safely from Battlefield 2042 without your intervention.