How to customize cars in Cyberpunk 2077 on PC?
It is disappointing for many Cyberpunk 2077 players that there is no car customization here. This function was removed during development and now it is impossible to change the appearance of the machine. Despite this, some changes can be made. For this, a special PC mod was developed, belonging to the user. Nexus mods dimasnik…
How to set up Auto Cyberpunk 2077 on PC?
The existing mod allows you to change the version of the car in the garage. For example, you can edit its color or style.
To make changes, you need to do a few things:
Find and download Nexus mods by selecting the files required for a specific vehicle. To download, you need to register on the site.
Unpack the downloaded files using Winrar or 7zip.
Several folders for a specific machine will appear in the archive that appears.

In each of them there is a picture that will help you choose the preferred version of the car image.
After that you need to copy the .archive file from the folder with the desired image and paste it using the link [Путь к игре] Cyberpunk 2077 archive pc patch.
If there is no patch archive, then it must be created manually.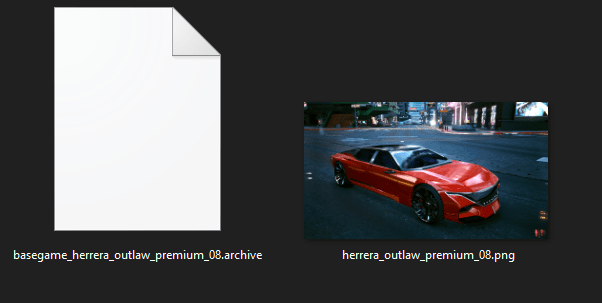 After that, in the game, cars will acquire the image that was selected. It is also worth noting that some options are not yet compatible, namely:
Mizutani Shion MZ2 contradicts Mizutani Shion MZ2 Targa Cabrio;
Cthulhu is incompatible with Jen Rowley.
Important! Before starting any changes to the game, be sure to create a backup.
Earn points and exchange them for valuable prizes – details