How to fix Error 9907 in Genshin Impact?
The 9907 code in Genshin Impact is one of the most common, it appears on all platforms and types of devices, that is, no one is immune from it. A note indicates that there is not enough storage space. In general, this is true, but here it is necessary to clarify that there is not enough free space on the section where the game is stored. On a computer, this can be drive C, D or another, on a smartphone – internal memory or microSD card, on a console – built-in or external storage. In other words, you may have a lot of space on other media and the error will still appear. We will tell you about several options for fixing crashes for popular PC, PS4, Android platforms.
Fixing Genshin Impact Error 9907 on Android
There are several main solutions to the error on Android:
Freeing up space… It is worth removing or moving media from your device as it takes up a lot of space. More than 1 GB should be free.
Clearing the cache… To do this, go to "Settings" in the "Applications" section, where select Genshin Impact and click "Clear cache".
Move game… Most likely, it is stored in the internal memory of the smartphone, which is already loaded with photos, other applications, etc. It is worth moving it to a memory card (not all smartphones support this).
Reinstall the game… You can also uninstall the game from the main screen, and then install it from the Play Market. It will download and immediately update to the current version.
Advice! During the procedures, keep the screen on, as this may interrupt the installation of the application.
Solving Genshin Impact Error 9907 on PS4 and PS5
There are several ways to free up space for installing a new game:
Remove other apps… It is enough to select them, press the Options button and click on the "Delete" option. You can safely delete what you are not playing now. The game will still remain in the library, it can be downloaded again at any time.
Connect an external hard drive… After that, you can move some of the data here. To do this, select "Manage saved application data" in "Settings". Now you need to select "Saved Data in System Storage" and click "Copy to USB Drive". After choosing the game and the type of data, all that remains is to start the procedure.
Remove unnecessary files… File management is carried out through the menu "Settings" – "Manage saved application data". All storage types available on the device will be available here. Once the files are selected, you can delete them.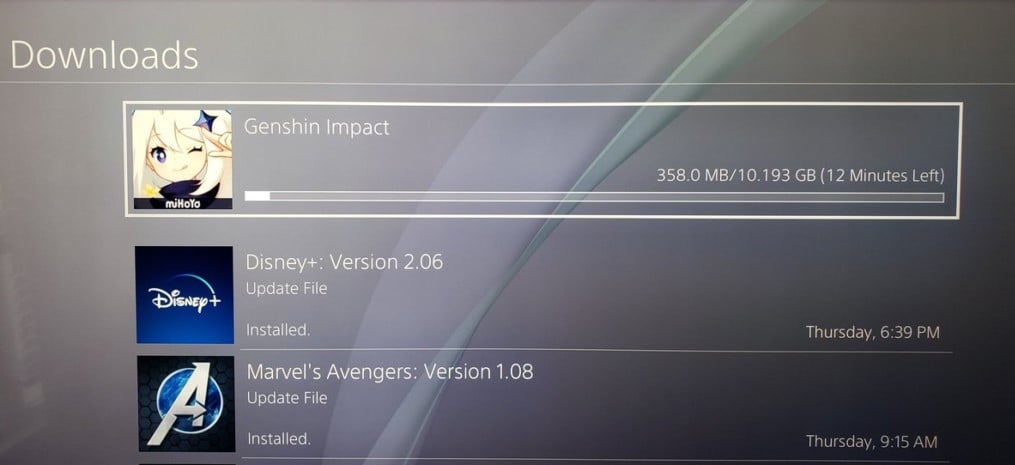 Eliminating Genshin Impact Error 9907 on PC
To install Genshin Impact without error 9907, you need to have more than 30 GB of free disk space. The simplest fix is ​​to switch the installation path to a different logical drive. If the installation fails on drive C, it is worth trying drive D. Another way is to free up some space by removing any unnecessary items.
If you ensure that there is enough free space on your device, you will not see error code 9907 when installing Genshin Impact. Everyone can choose their own path: free up the current space or expand its volume with external storages, if there is nothing to delete.
Earn points and exchange them for valuable prizes – details