How to get rid of Windows Defender 0x80029c4a error?
When working with Windows 10 Defender, users may stumble upon error 0x80029c4a. This usually happens when they try to interact in one way or another with files and other components placed in the Defender's quarantine.
The error message contains the following information:
Error loading libraries / dlls.

Error code: 0x80029c4a
After this error appears, the user can no longer view the contents of the quarantine and perform any actions on it. In today's article, we will see with you why this error occurs and how you can fix it.
Reason behind error 0x80029c4a
If you are sitting on build Windows 10 v 1709, then you should be aware that Microsoft changed Windows Defender to Windows Security. Error 0x80029c4a occurs when users try to start Windows Defender from an old shortcut that was meant for Windows Defender Security Center.
The old version of Windows Defender is no longer available on Windows 10 build v1903. You can get rid of error 0x80029c4a and access the Defender's quarantine using two elementary methods.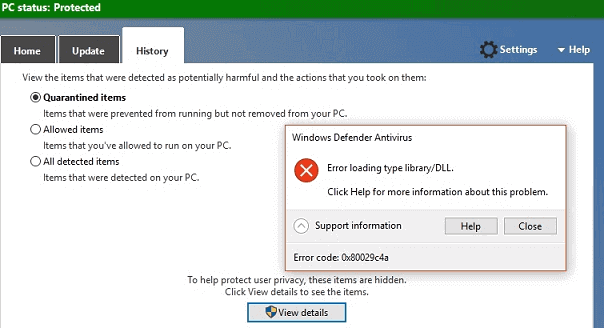 Method # 1 Run MSASCui.exe from the Administrator
First, go to the C: Program Files Windows Defender directory. Right-click the MSASCui.exe file and select Run as administrator. And that is all. You will see the Windows Defender Security Center window, from which you can manage files and other quarantined components.
Method # 2 Using Windows Security
Press the combination Windows + S on the keyboard and enter the query "Windows Security" in the search box. When the result appears in front of you, drag it to the desktop or to the taskbar. After starting Windows Security, a new Defender interface will open in front of you. Everything should now work without error 0x80029c4a.
Earn points and exchange them for valuable prizes – details