Minecraft Java Edition for Android
Minecraft Java Edition is designed for computers, but has been successfully ported to Android. With the help of a special launcher, the player can change textures, add items and customize worlds. You can choose the version of the game yourself after installation, the application will automatically update to it. In addition to changing the world, Minecraft Java Edition for Android allows you to manage your GUI. The game is official, so the player can connect to all kinds of servers, including those with special modes. Its main advantage is the ability to customize it in any convenient way to increase its efficiency in the gaming world.
Features of PoJavaLauncher Minecraft JE for Android
The PoJavaLauncher platform provides access to a large list of Minecraft JE features. They will be appreciated by both true fans of the game and beginners.
supports everything, even the latest versions of Minecraft;
you can change the resolution of the game;
scales correctly even on Android tablets;
supports the installation of almost all known mods;
functions may appear that are not in other versions of Minecraft;
allows you to install beta versions of the game;
Java Edition is easier to modify than the classic version of the game.
How to download and install Minecraft Java Edition for Android?
There shouldn't be any particular problems installing Minecraft Java Edition for Android, but there are a few features. To eliminate the risk of error, you should follow the instructions:
Download the APK file from the link.
Run the file and confirm its installation. Additionally, you need to allow the installation of "From Unknown Sources", if you have not done so earlier.
Enter your login details (if you have a licensed Minecraft). Users without a license need to enter any "Username", select the checkbox next to "Log in to offline account" and click on the "Login" button.
After downloading the data, next to the "Play" button, you need to click on the version of the application and select the desired one.
Start the game with the "Play" key.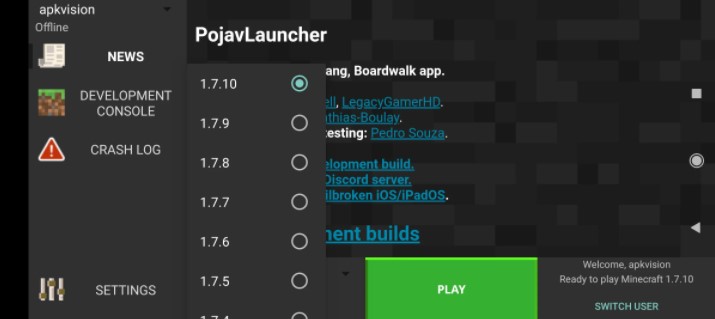 Now you need to wait a bit for the world to load. The first time it can take quite a long time, then it will be faster.
Important! If your phone freezes when launching regular Minecraft, then you don't need to try the Java Edition. It is more demanding on the resources of the smartphone.
Earn points and exchange them for valuable prizes – details