OPie, ElvUI, Bartender4 and others
Live and breathe World of Warcraft? Then, dear reader, you should know that with the help of "add-ons" you can not only personalize, but also greatly improve the experience gained from this popular multiplayer game.
WoW's user interface has remained largely unchanged over the past 15 years – complaints about this can be found all over the Internet. Fortunately, you can easily modify the interface, not only its appearance, but also the functionality. Starting from the automatic sale of "garbage" from the inventory and ending with overlay buttons – addons for WoW will satisfy your every desire.
You can find countless different add-ons for the Blizzard project on the net. Perhaps, reader, you really know about WoW add-ons, but do you know how to install them and which ones are worth spending your precious time on? In today's article, we will tell you about all this.
How do I install WoW addons?
Just a few months ago, many players installed WoW add-ons using the dedicated Twitch app, but things are a little different now. In November 2020, Twitch management decided to rid their app of the mods section, replacing it with a separate program, Overwolf.
Most of the WoW game base gives its preference to dedicated mod managers or manual installation, thereby completely ignoring Overwolf. We recommend doing the same in order to avoid unnecessary headaches. WowUp is one of the simplest and most intuitive WoW mod managers on the web.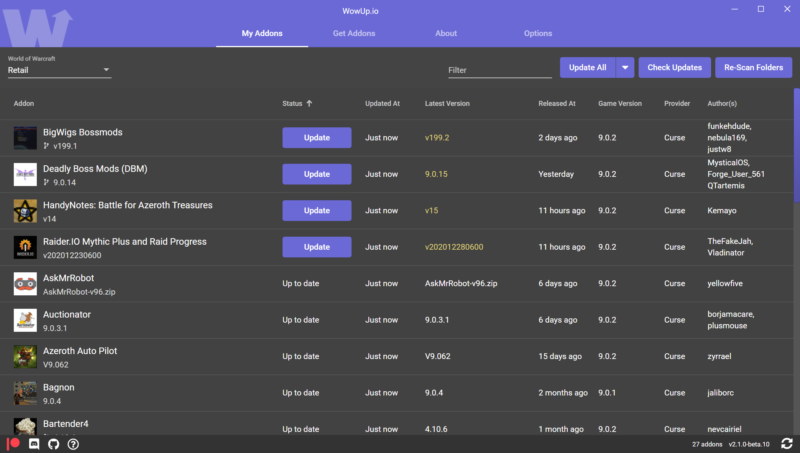 How do I install WoW addons manually? Everything is also extremely simple here: download the required add-on, unpack it (if necessary), and drop the resulting files into the World of Warcraft / _retail_ / Interface / Addons folder. However, installing add-ons manually, you will need to independently monitor what you have in the "Addons" folder.
In addition, do not forget that for some WoW add-ons there may be regular updates that you will have to install yourself. In general, the manual method is not for everyone, especially for those players who hate micromanagement. And the latter in World of Warcraft, and so it is enough.
Ok, let's now get to the list of the best WoW addons for 2021!
Best WoW addons for 2021
Bartender4
Hotbars are the most obsolete part of the user interface in World of Warcraft. By default, hotbars in WoW are extremely small, they do not display a ton of important information and the player has almost no way to personalize them. Bartender4 is an addon that gives you full control over all ten hotbars in the game. Position, size, and even transparency are all in your control.
If you are just starting to play World of Warcraft, then Bartender4 should definitely be your very first add-on. After some time of active play, your hotbars will begin to fill up with all sorts of skills – a complete mess. The Bartender4 add-on allows you to create convenient overlay buttons that perform certain actions and display them in a convenient position on the screen. More advanced users will be delighted with the possibility of creating custom "macros" with which you can change the appearance and functionality of your hotbars literally on the fly.
Deadly boss mods
Another modification that we strongly advise you to familiarize yourself with. Deadly Boss Mods makes World of Warcraft's challenging boss battles more fun. With this addon (and its older versions for WoW extensions), you no longer have to remember every move of every boss in the game. During a boss fight, notifications and screen effects will appear in front of you, which, for example, will warn you in advance of a dangerous attack and provide a helpful hint. With Deadly Boss Mods, the raid and dungeon timers are synchronized for you and your party members, which helps you better coordinate your team even if someone is abruptly disconnected from the game.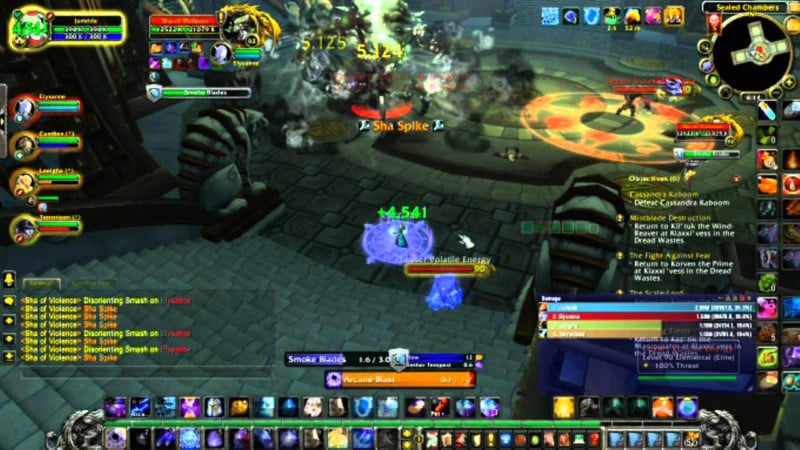 However, perhaps the coolest "feature" of Deadly Boss Mods is the automatic messaging feature. Let's imagine that you are fighting a boss and someone has sent you a message. Obviously, you can't answer – Deadly Boss Mods will do it for you! The addon on your behalf will send a short message like "a little busy" or "I'll answer later, busy". Very comfortably.
Alternative: Bigwigs. Bigwigs has almost the same functionality as Deadly Boss Mods, but it is, so to speak, less intrusive. A great option for those players who do not like the extremely loud and atmosphere-breaking messages of DBM.
Bagnon
The inventory system in World of Warcraft is something with something. One extensive inventory? Pfft! Why give your player one inventory when he can be forced to dig in a heap of small bags, between which he will constantly get confused? Fortunately, the Bagnon addon fixes a nightmare vanilla inventory: now you have only one bag, where you can find all your items found during your adventures.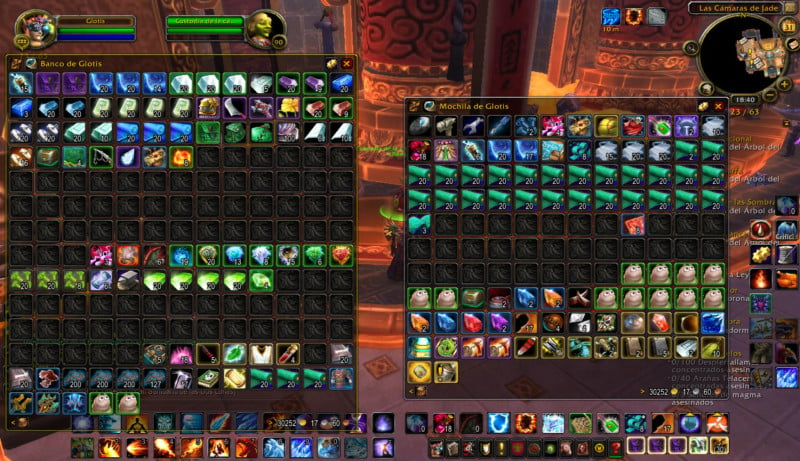 But this is not all! By installing Bagnon, you can view the inventory of not only the selected hero, but also all other characters on your account. In addition, items will now be highlighted with different colors indicating a particular rarity (green, blue, purple, etc.), which will help distinguish standing items from debris. Plus, do not forget about a convenient search engine and special filters that make it easier to find items in your inventory.
Alternative: Adibags. Adibags is a cross between the standard WoW inventory and the Bagnon inventory. This addon will automatically sort the contents of your bag into separate categories. You can also download additional filters for sorting, if necessary.
Details! Damage Meter
Details! Damage Meter is a very detailed graphical DPS meter that shows how much damage you and your party are doing in a handy text log. This addon is almost heavenly manna for players with DPS characters. Among other things, you will be pleased with the additional functionality of Details! Damage Meter, for example, view the talents and item levels of the characters in your party.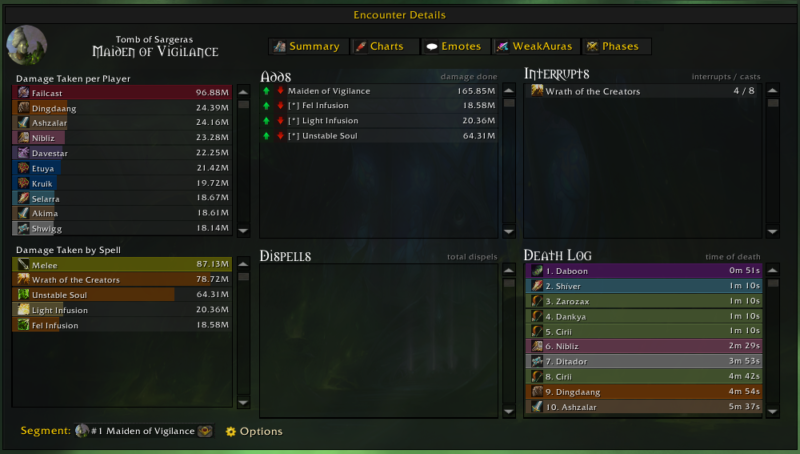 Alternative: Skada. Skada does not show its player the same amount of information as Details! Damage Meter, but this addon will be enough if you just want to keep track of the damage done and taken.
WeakAuras 2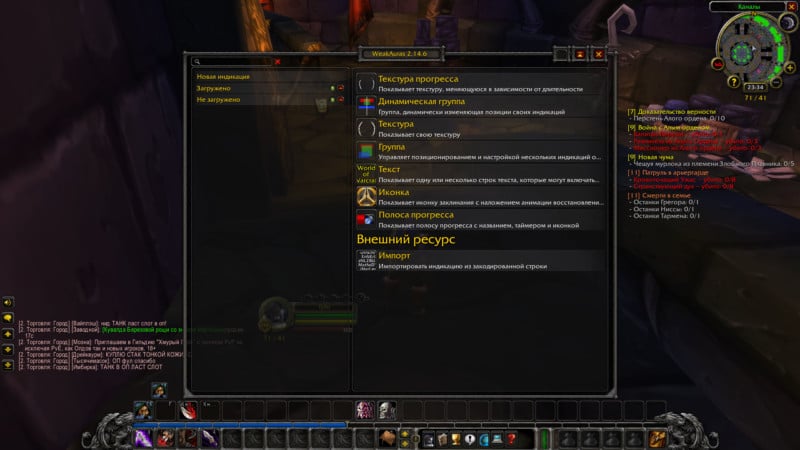 Already have a headache from all these numbers and scales on the screen? WeakAuras 2 is an addon framework that displays buffs, debuffs and other status effects in the form of convenient graphical elements that can be personalized according to your preferences. It's worth noting that WeakAuras 2 has so much functionality that you might need to check out a couple of video tutorials on YouTube. However, if you do not want to bother with customizing the add-on, then you can use the pre-created templates.
MoveAnything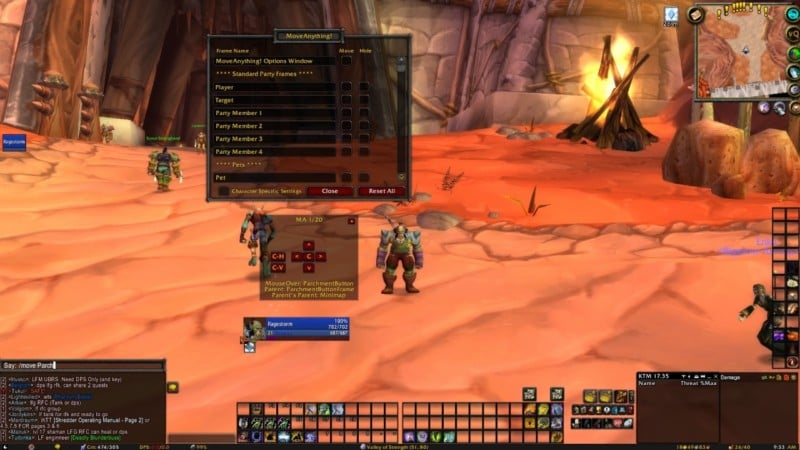 MoveAnything is a powerful tool thanks to which the player can change any element of the user interface: different scales, quest list, portrait position, mini-maps and much more. Don't like the standard World of Warcraf interface? Then MoveAnything is your choice.
ElvUI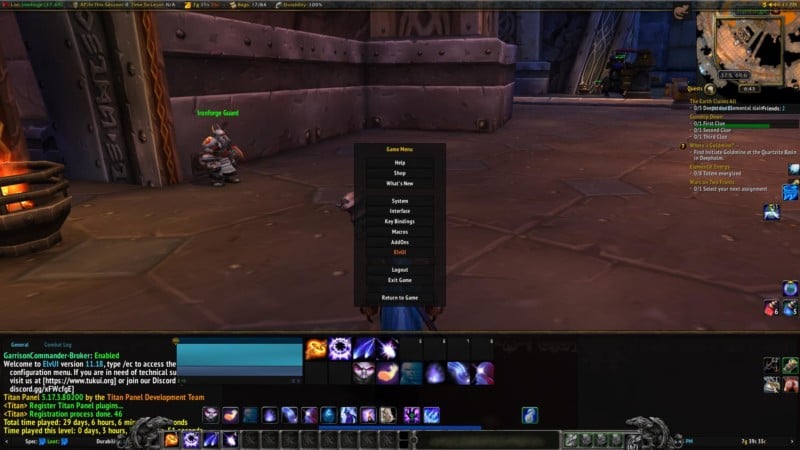 ElvUI is the most popular WoW addon. ElvUI replaces every standard user interface element with a more stylish, comfortable and functional equivalent. However, with this add-on you can forget about the fantasy-style interface for obvious reasons. Previously, players had to manually update ElvUI, but today this can be done automatically, with the help of certain modifications. One of the nice features of ElvUI is that you can customize your interface while playing, i.e. the results will be visible immediately. It is worth warning right away that if you want to use other WoW addons, then ElvUI must be installed first, otherwise conflicts will arise between addons.
World Quest Tracker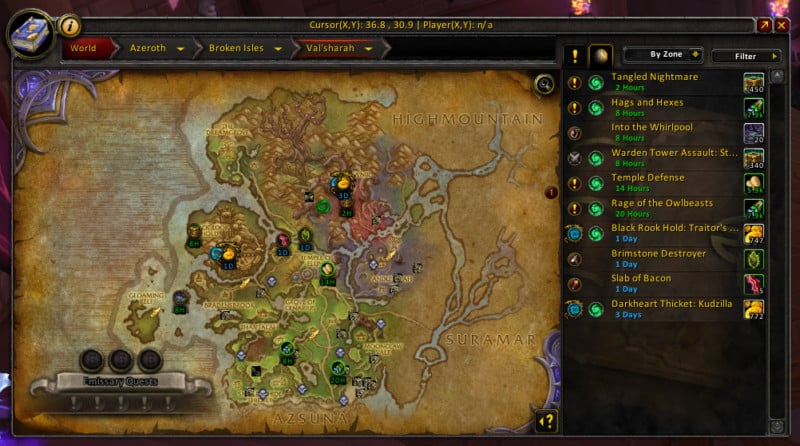 World Quests aka Daily Dailies were first added to World of Warcraft in the Legion expansion. This is a great system that unfortunately suffers from an extremely outdated map interface. The good news is that all of this can be fixed with the World Quest Tracker addon. By pushing the map as far as possible, World Quest Tracker will show you the rewards of the world quests for each region, which is extremely convenient if you are looking for a specific reward. Next, you just need to click on the reward icon to move to the corresponding world quest in the general list. Very convenient and saves a lot of time. World Quest Tracker also has a stats screen that displays completed world quests, cumulative rewards, and more.
Azeroth Auto Pilot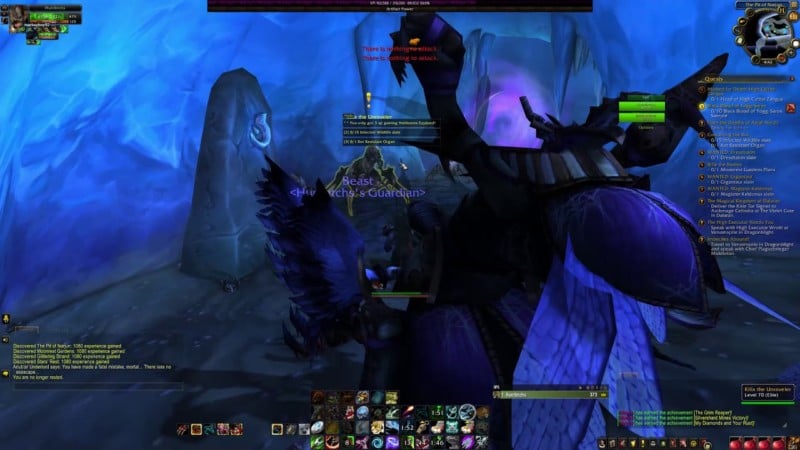 After leveling your first character to level 60 in the Dark Lands, you probably don't want to repeat the whole process with all your other characters. We present to you Azeroth Auto Pilot – a special addon that automates dozens of small game mechanics, which greatly simplifies and speeds up pumping a new character to the maximum level. Having installed Azeroth Auto Pilot, you just have to go where the arrow points on the screen – the mod will talk to the NPC, interact with objects, and more. WoW on autopilot!
GatherMate2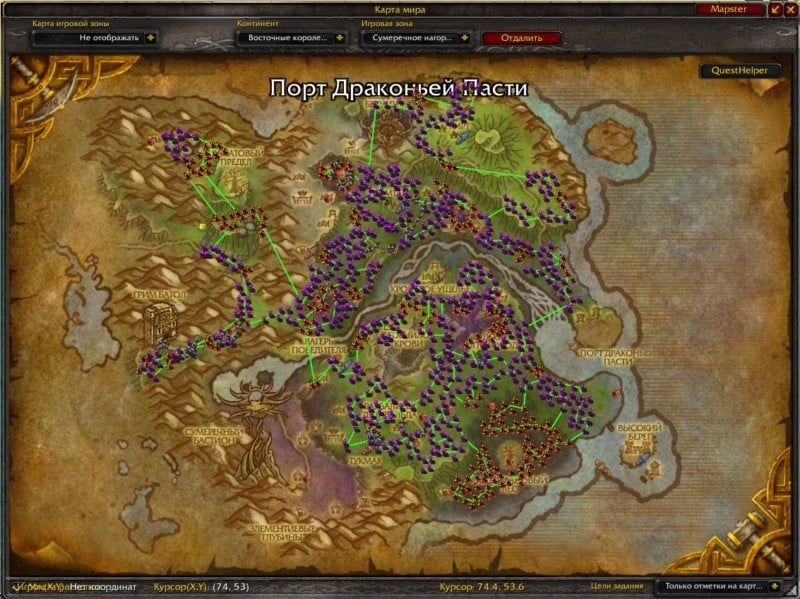 GatherMate2 is a great addon if you have resource gathering professions and plan to farm or auction resources. Whenever you pick up a plant or mine ore, the location of that resource will be marked on your map (and minimap). Actually, that's all this addon does – an invaluable help for farmers.
OPie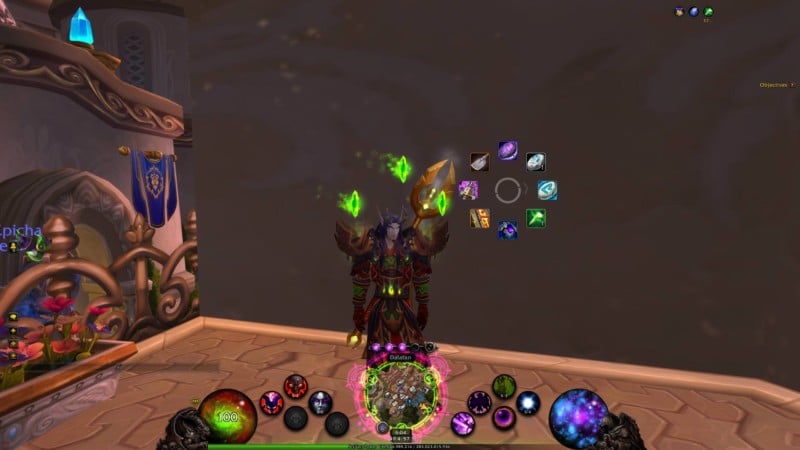 OPie is an extremely simple but effective addon. OPie creates a circular context menu that allows the player to easily use any hotbar skill with the mouse. Such an addon will be primarily useful for players who want to slightly unload their hotbars from skills that they do not use on a regular basis. You could say OPie creates another extra hotbar, but only for your rodent.
Earn points and exchange them for valuable prizes – details