"Rockstar game services are currently unavailable" in GTA 5
Players who have purchased the disc versions of Grand Theft Auto 5 on PC complain that when they try to launch the game, they receive the error "Rockstar Game Services are currently unavailable." Some of you might immediately think that the problem is on the developer's side, but this is not always the case …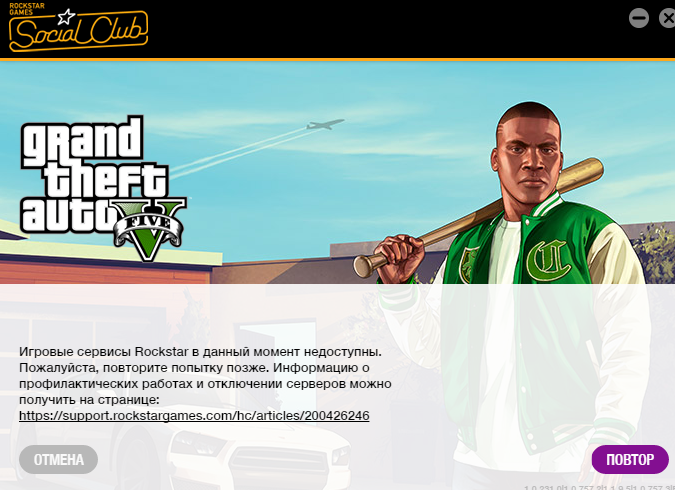 Method 1: Potential Problems on Rockstar Servers
One of the reasons for this error may be related to problems with the Rockstar Games servers, due to a large influx of players, or other technical problems. In this case, you just have to wait.
Method 2. Create a "correct" account
The fact is that the appearance of such an error in GTA 5 on a PC can cause the presence of Cyrillic characters in the name of the Windows OS account. It is enough to recreate your account with administrator rights using Latin characters, and the error "Rockstar game services are currently unavailable" will disappear.
To create a local administrator account in Windows 10, you need to do the following:
press Win + I to open a window with system parameters;
open the "Accounts" section and go to the "Family and other users" subsection;
click on the option "Add user for this computer";
in the new window, click on "I do not have the login information for this person", in the next window – on "Add a user without a Microsoft account";
enter the required name (in Latin!) and password, and then click "Next";
reopen "Accounts → Family and other users";
select the newly created user and click "Change account type";
select "Administrator" from the drop-down menu and click "OK".
Now log in with your new account and try running GTA 5 again. The "Rockstar Game Services are currently unavailable" error should disappear.
Method 3. Additional solutions
If the above solution did not work for you, or you already have an account with the correct name, you can try a few additional solutions:
make sure that the name of the folder with system documents is written in Latin;
install a VPN in the system and try to log into GTA 5 using your Social Club account through it;
Perform a full reinstallation of the Rockstar Games Launcher and Social Club;
install all the latest updates for GTA 5.
Earn points and exchange them for valuable prizes – details