(Solved!) Error 0x8007232b when activating Windows 10
Error code 0x8007232b appears for Windows 10 Enterprise users. It is displayed when an attempt is made to activate the operating system. It means that the KMS server was not found, and according to the Microsoft database – "DNS address does not exist." This is a versatile error that doesn't always appear for obvious reasons. Sometimes it is even caused by the fact that a pirated version of Windows 10 is installed, but let's talk about it all in turn.
Causes of Error 0x8007232b
The error may look a little differently:
Activation error: code 0x8007232b – DNS does not exist;
Error: 0x8007232b – failed to activate Windows. The KMS Key Management host is unavailable.
What can cause error 0x8007232b:
network errors including DNS problem (KMS cannot find RMS KMS SRV in DNS);
unable to connect to the KMS host, most likely it does not exist;
The KMS host is incorrectly configured;
there was a problem with connecting to the organization's servers;
Activation tool is not working properly;
viruses have damaged some system files;
Important! The first thing to note is that if you have Windows 10 Enterprise installed, but you are not a member of a corporation, you have a pirated operating system installed. Unlicensed Windows 10 can be restored with activators, although we, of course, do not recommend this method. It would be much better to purchase a licensed version of the OS and activate it with a key.
Error correction guide
If we summarize the information about the causes of the error, there will be 3 main sources of failure: problems with DNS, KMS, or blocking of pirated Windows 10. Less often – violation of the integrity of system files. It is from these perspectives that the error should be considered, and therefore the ways to correct it. Let's start with the most innocuous network problems. If none of the above works, we will conclude that a counterfeit product is installed on the computer.
1) Scanning network problems
A special utility for finding connection problems will greatly simplify our work. It is built into all more or less recent versions of Windows 10 and is capable of fixing most network problems. Even if it fails, we will find out about the existing problems in the operating system.
What should be done:
Right-click (RMB) on Start and go to the "Control Panel".
Open the "Troubleshooting" tab.
Go to the "View all categories" section and select "Network adapter".
We are waiting for the scan results.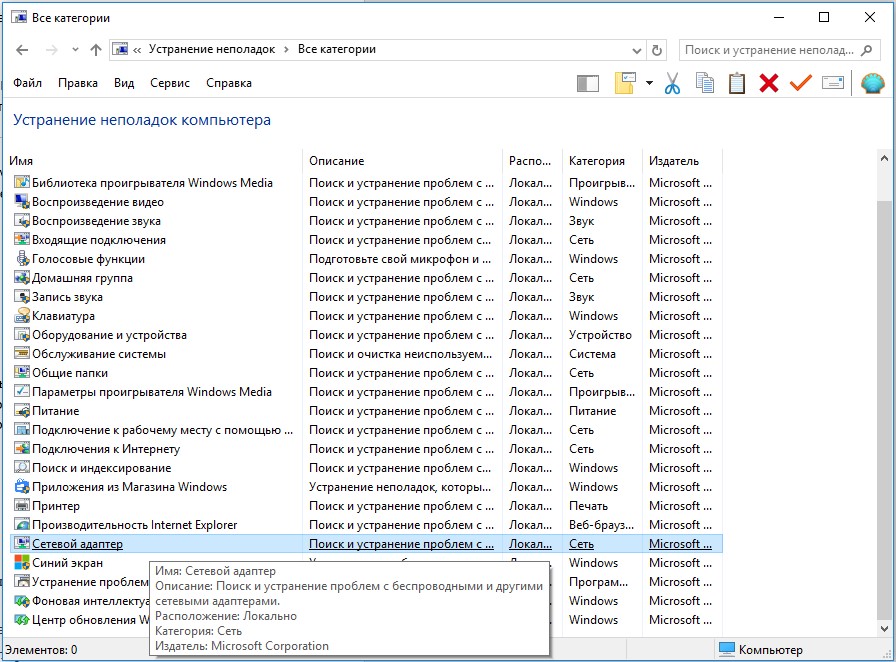 If there are problems with network connectivity, especially with DNS, you need to pay special attention to this. Even if Windows 10 managed to fix them, it's better to replace DNS with another one.
2) Reset cache or replace DNS
For some users, simply deleting the DNS cache worked and the ability to enter the Windows license key resumed. Those less fortunate will have to take a little more steps and replace the standard DNS from the provider with their own.
How to clear the DNS cache:
We press RMB on Start and select "Command Line".
Insert the command ipconfig / flushdns and press Enter.
We check the possibility of activation.
If the procedure is unsuccessful, we recommend trying to install a new DNS. For example, we will use one of the most stable Google DNS, it is the best choice in most regions, but not everywhere. Through your own testing, you can find a more suitable and faster DNS for your specific area.
How to fix error 0x8007232b in Windows 10 Enterprise:
We make a right-click on the Internet connection icon in the lower right corner and select "Network and Sharing Center".
We go to the section "Changing adapter parameters".
Click RMB on the active connection and go to "Properties".
We are interested in the option "IP version 4", we click on it several times.
Check the box "Use the following DNS server addresses".
Enter 8.8.8.8 in the "Preferred DNS server" field, and 8.8.4.4 in the "Alternative …" field.
We save the changes and try to activate Windows 10.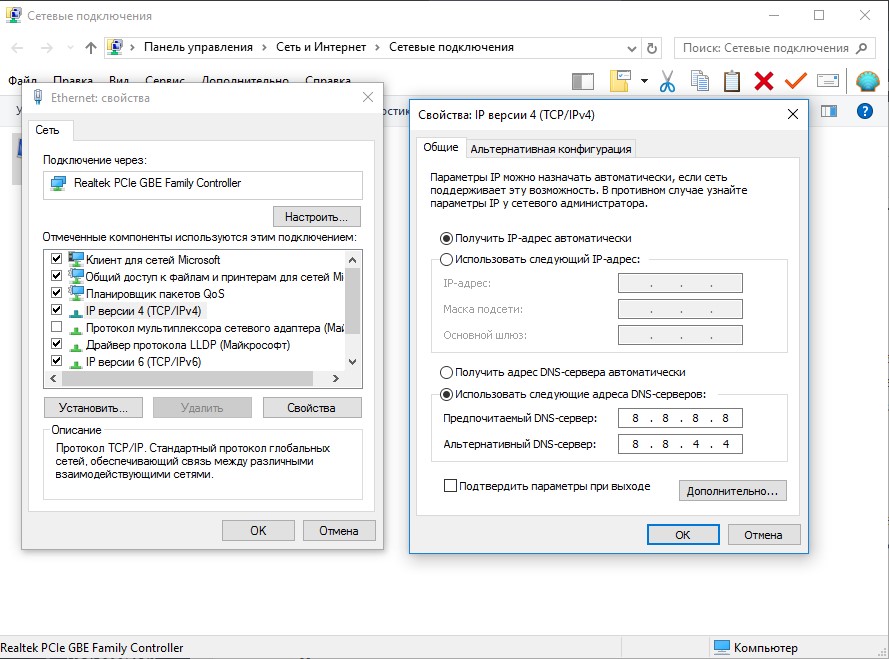 3) Alternative options for entering the license key
If you suspect that the standard licensing tool is not working properly, you can try other input methods. There are a couple of additional tools that are run through the command line. Sometimes this activation method works at the same time as the usual one does not.
How to activate Windows 10:
Open the command line (just enter this name into the search). Required with administrator rights.
Enter the SLUI 3 command and press Enter.
In the line that appears, enter the license key.
The essence of the method is similar to the usual manual activation with the only difference that we run the tool through the console. You can also carry out the entire procedure only within the console.
How to do it:
We launch the console in any convenient way (for example, enter cmd into the search).
Enter into the command line slmg.vbs -ipk [ключ продукта без скобочек]…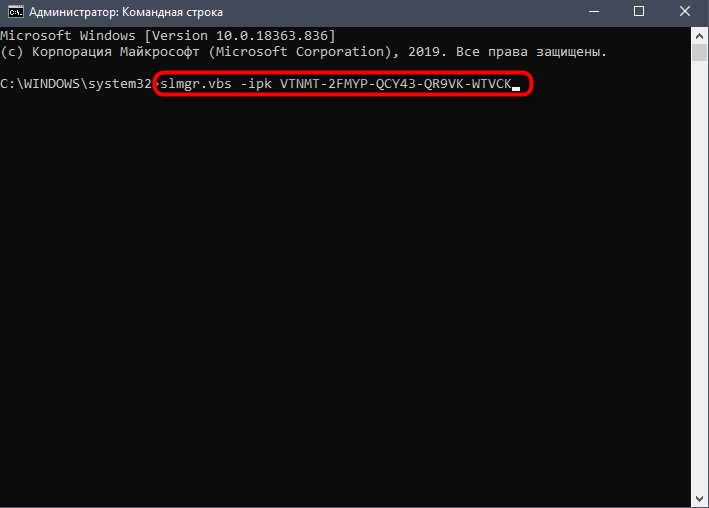 It is imperative that you restart your computer for the action to fully work. This applies to all methods of activating Windows. If, after restarting, a message does not appear asking you to activate the system, then everything went well.
4) Configuring a KMS host
For Windows 10 Enterprise to activate, you need to have access to a working KMS host. It is usually installed by system administrators on remote servers, allowing multiple systems to be activated at once. This can be done on your own computer, if you do not need to work with a large number of PCs.
How to set up a KMS host:
Press RMB on Start and select "Command line (administrator)".
If necessary, enter the user's password.
Enter the command into the console: nslookup -type = all _vlmcs.tcp> kms.txt and press Enter.
Open the kms.txt file (most often you can find it along the path% temp% kms.txt). There must be at least one command that conveys the location of the SRV service. Registration takes place once a day and we need to find out if the KMS host server is being registered.
Press Win + R, enter regedit and press the Enter key.
We follow the path HKEY_LOCAL_MACHINE / SOFTWARE / Microsoft / Windows NT / CurrentVersion / SL.
In the right workspace, select the DisableDnsPublishing parameter and look at the value. Should be 1. If there is no section at all, you need to create it. A value of 0 means dynamic registration.
We exit the registry editor and restart the computer.

5) Removing viruses and restoring system files
There is a chance that your problem is related to system corruption by viruses. To fix the wrong state of Windows 10, there are a few things we recommend you do.
Management:
We open any antivirus, you can even Windows Defender.
We launch a system scan, it is better to choose a full analysis instead of a fast mode of operation.
When all damaged files have been found and removed, moved to quarantine or disinfected, you can move on.
We start the console and enter the command sfc / scannow, then press Enter.
We reboot the PC and try to update the license key again.

6) Acquisition of another licensed Windows instead of pirated
It is unpleasant, but true – if you have Windows 10 Enterprise installed, but you are not a member of the corporation, most likely a pirated license is installed on the system. This is the most common way to activate unlicensed Windows. Sometimes an unofficial key is installed even in stores. The solution will be to install an official key or contact the seller of the operating system (a computer with a pre-installed OS).
It is quite logical that error 0x8007232b will stop appearing in Windows 10 Enterprise if you fix all possible problems that could trigger the crash. Various issues related to 0x8007232b should be corrected using one of the listed methods.
Earn points and exchange them for valuable prizes – details