ten interesting and little-known facts about the game
Genshin Impact is an extremely difficult toy, especially for gamers who have never played gacha titles. But what is gacha? Gacha is a complex game in which you can find a bunch of popular gameplay elements from other games. In most gacha games, the plot is presented in the form of a visual novel, and the combat system is turn-based. Well, and, of course, at the head of everything is the mechanics of knocking out attractive anime girls (and sometimes boys) of various rarities.
The latest development of miHoYo is a rather unusual gacha game: it is more of an action RPG in an open world, rather than a novel with turn-based combat; a kind of clone of the last Zelda. That is why Genshin Impact managed to become (maybe for a short time) more popular than such a giant as Fortnite! One way or another, there are many things in Genshin Impact that the game for some reason is actively silent about.
Ten most interesting facts about Genshin Impact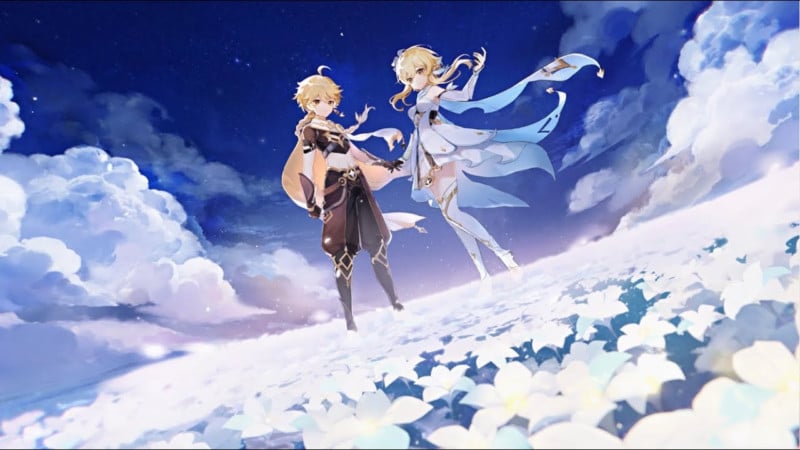 Primogens – do not touch!
Genshin Impact has a special currency called Primogen. Players can spend this currency on a variety of content, but we strongly recommend investing it only in calls. The game will now and then offer you to spend your primogen, but in no case agree to these offers. The probability of dropping five-star heroes is only 0.6%, and therefore the more primogenes you have, the better.
We use only massive summons of heroes
Always try to use massive summons of characters. It is necessary to accumulate about 1,600 primogenes for the mass appeal. If you decide to speed up the process a little and buy primogen for crystals, you will have to pay 20 real dollars. But why not use a single hero summon? The fact is that with a mass summon, you are guaranteed to receive at least one hero / item with a rarity of four or five stars. With a single summon, the chances of knocking out a 4-star character / item are only 5%. In general, using single calls is extremely unprofitable.
Attention: the layout does not change
No, you got it right. In Genshin Impact, you really cannot change the layout, neither for the controller, nor for the keyboard and mouse. Why the developers from MiHoYo decided to do this is not clear. You just have to get used to the default controls.
Instant switching between heroes
Genshin Impact players have the ability to switch between four heroes, but only if they are in the same group. Some situations will require you to switch, and therefore it is definitely not worth getting hung up on one character. You will not be able to play solely as one character – this is not such a game.
Choosing the right heroes for your squad
Now let's talk about the selection of heroes for the squad according to elemental elements. It is very important that your squad has characters with different or all of the available elements. In the latter case, you can get 15% resistance to all elements, which is undoubtedly a huge plus. And if you decide to take a couple of pyromancers into the squad, you can get a 25% increase in damage for all heroes in the squad! Experiment with building your squad and get access to a variety of bonuses.
Travel level boost
The adventure level is arguably the most important game mechanic in the entire Genshin Impact. You can pump the adventure level by the following actions:
killing opponents;
opening chests;
defeating bosses and mini-bosses.
However, do not bother too much with the exploration of the world, because all the skills necessary for this will open only at level 20.
Daily Quests – Level 12
Is it possible that after the opening of the Academy of Adventures one can only be content with the book of adventures? Not really. As soon as you get to level 12, daily tasks (or daily quests, as some players call them) will become available to you. By completing such tasks, you will receive the very valuable primogenes that allow you to summon additional characters.
Battle Pass – Level 20
In Genshin Impact, players can access the Battle Pass at level 20. It is worth noting that there are two pass options: free and paid. Through a free battle pass, players can get EXP content, 720K gold coins, and five destinies. In the paid version (it can only be opened for real money!) You will receive the contents of a free pass, plus four more destinies, 680 primogenes and a couple of chests.
Extra fates in exchange for stardust
After each call, a small amount of Stardust, the game currency in the world of Genshin Impact, is credited to your account. And if you're unlucky enough to knock out a duplicate character or item, you get even more stardust. Simply put, you will not be left without compensation in any case. But what can you buy for this currency? Well, you can exchange dust for all sorts of materials and EXP items, however, we advise you to invest it exclusively in destinies. Each destiny costs about 75 units of stardust. You can buy no more than five destinies per month. In total, you will need to spend 375 units monthly. At first it will seem to you that this is a huge amount, but this is only at first.
Stardust> Stardust
Starlight is an extremely rare resource in the world of Genshin Impact. In fact, it works in approximately the same way as stardust, but with its own nuances. Starlight can only be obtained by summoning four or five-star characters. It is also important to note that the stellar brightness will always be significantly less than the stardust. For example, at the tenth level, you might have 2-3 units of stellar brilliance, and stardust – 300-450 units.
Try to always save the starlight for 100% hero gain. The assortment of Peymon's shop is constantly changing, and therefore you will have to wait until the character you want appears on its shelves. The price of one character is 34 stars. Seven destinies for summons cost the same, but they do not guarantee you will receive the desired character. We save up shine, go to the store, buy a character – and so on until the victory!
Earn points and exchange them for valuable prizes – details