TOP 8 Best Apps for Learning English
Mobile apps are a great tool for learning English. They are easy to use and won't take up a lot of your time. Imagine that you have a miniature classroom on your phone that you can access whenever you want, such as sitting on a park bench or relaxing at home.
Of course, apps cannot replace real teachers, but they are ideal for all learners to complement core lessons. Expanding your vocabulary, grammar lessons, interesting reading, audio – all this and much more can be accessed in apps for learning English.
Do you have any such application on your phone? What are you waiting for!
TOP 8 Best Mobile Apps for Learning English
1. Duolingo is the best tough middle peasant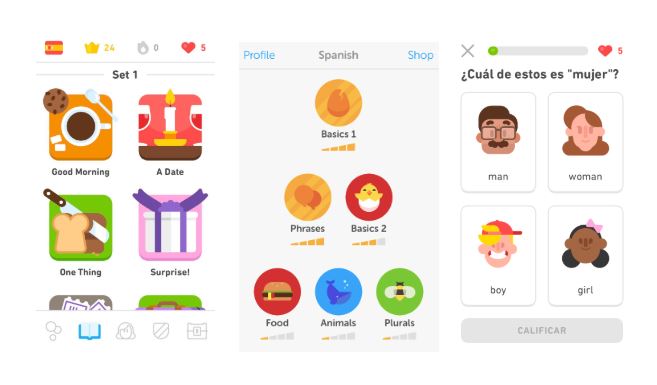 Even if you weren't interested in English until now, you've probably heard about Duolingo – the most popular language app in the world! One of the reasons this app is so popular is the leaderboard. The more you learn words, take lessons, the more points you get and the higher you climb the leaderboard. Users are not divided into separate regions, and therefore a variety of nationalities can be seen in the plate. Plus, in the application, you can become friends with other users of the application and track their progress. Duolingo looks and works more like a video game – you unlock new levels and win virtual currency while expanding your vocabulary and improving your grammar along the way. Learning English with Duolingo is always fun and enjoyable!
Download Duolingo
2. Quiz your English is the best app before exams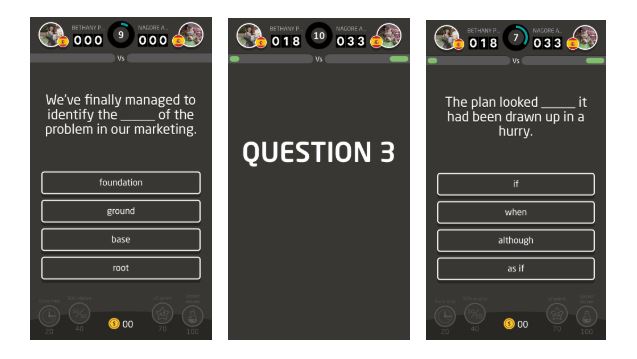 If you are preparing for English exams, then you will not find a better app than Quiz your English! The app was developed by the Cambridge University Examination Board (CELA) division. Quiz your English contains assignments that have been designed specifically for the Cambridge B2 First and IELTS exams. The app will help you improve your vocabulary and grammar to the level required to successfully pass most English exams, even Cambridge ones. Moreover, the application has a competitive mode in which your friends and family can participate.
Download Quiz your English
3. The British Council is the best grammar improvement app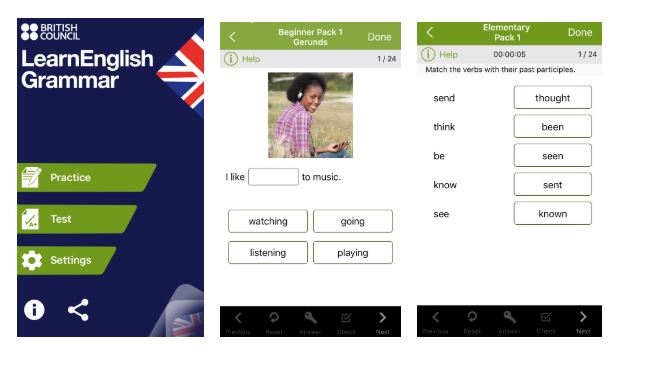 The British Council is a great grammar improvement app. This app has lessons and mini-games on a variety of topics. From simple lessons on imperatives, questions, simple present tense, gerunds to advanced lessons on all kinds of modal verbs, everyone will find the learning material they need. Once you are done with the theory, click on the "test" to test your knowledge in practice and understand what level of English you are at now.
Download The British Council
4.6,000 Words is the best vocabulary enrichment app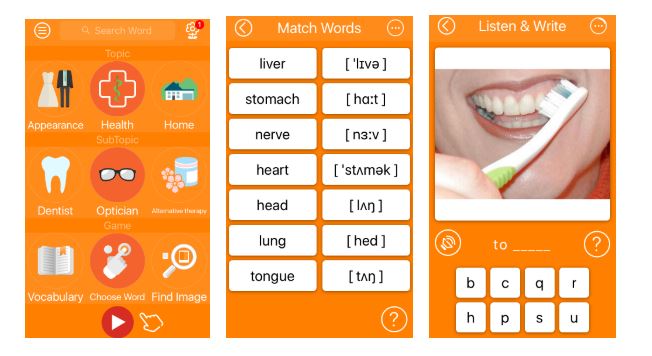 The simpler your vocabulary enrichment app, the better! FunEasyLearn has created a fun app called 6,000 Words to help you learn new English words by complementing your lessons with useful texts and pictures. In the app, you can find 6000 lexical items, placed in their special categories – the obvious Sports and Food, but also such subcategories as hockey, dentistry or even internal organs. Simply put, with 6,000 Words you can get a pretty rich vocabulary, and on a wide variety of English topics.
Download 6,000 Words
5. Beelingu is the best reading app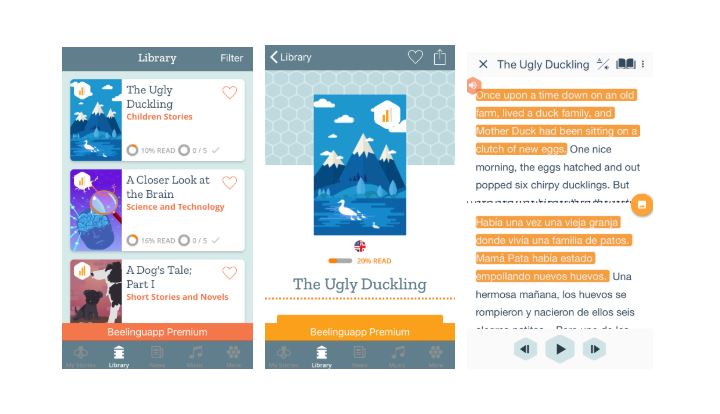 Beelingu is an excellent mobile application that will help you practice reading English text. The "trick" of this application is that first a story is read to you in English, then – in your native language. That's right, the text on the smartphone display will be read to you by the application itself, and therefore you can not only get acquainted with it visually, but also listen to how certain words and phrases are pronounced. Children's classics, excerpts from popular novels, articles on science and technology – in Beelingu you can find material of any caliber.
Download Beelingu
6. HelloTalk is the best speech development app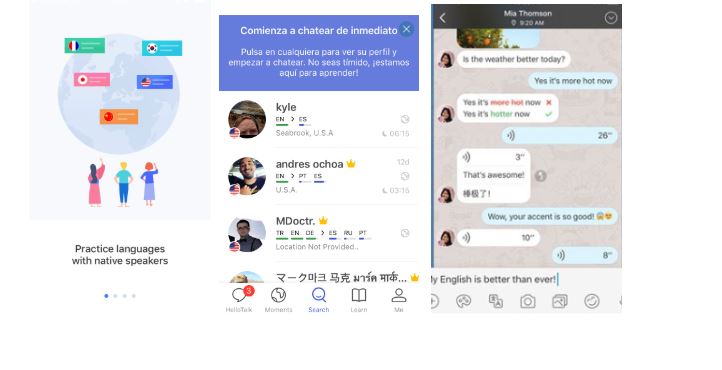 Don't you have a friend with whom you could practice your English? No problem! HelloTalk is a free application used by over 15 million users around the globe. Simply put, you are likely to find someone who wants to chat with you in English. However, there is a small catch: you will not only have to practice English with other people, but also teach your native language to your partners. A kind of a kind of language exchange. If you do not want to communicate with other people through video calls, then chat and voice messages are available to you. In addition, an auto-translator and a pronunciation advisor are available to users.
Download HelloTalk
7. Grammarly is the best writing exercise app
There are many apps online to help you improve your writing skills. Apps like HelloTalk allow you to chat with real native English speakers. But if you are looking for something that can instantly correct your mistakes when writing, then you definitely cannot find a better application than Grammarly! Grammarly not only checks your letter, but also clearly explains to you what mistakes you made and what you need to do to prevent them in the future. Grammarly works as an additional keyboard for your device, and therefore you can use this application in principle in any situation, for example, when sending work letters or when communicating with relatives on social media. networks.
Download Grammarly
8. BBC Learning English is the best app for daily practice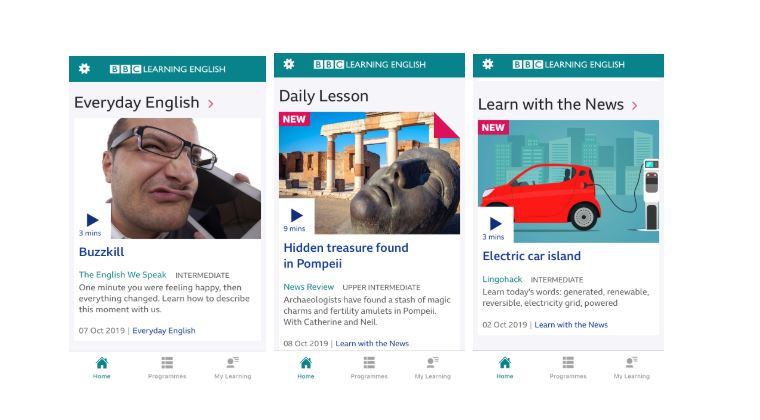 BBC Learning English is a fun English course that is perfect for people who want to start learning the language without spending a lot of their personal time on it. The main advantage of BBC Learning English is that daily English lessons take only a few minutes of real time. Expand your vocabulary, check the news and practice your English every day!
Download BBC Learning English
Earn points and exchange them for valuable prizes – details