Most often, it is the damage to the system file that makes Windows Defender inoperable, since more and more simple breakdowns do not harm the security system. In any case, it should at least start. The message states: "Windows Defender. The service could not be started. The requested resource is already in use. Error code: 0x800700aa ". An attempt at a manual start is also often unsuccessful. However, you can still do something.
How to fix error 0x800700aa?
The message states that "the service could not be started" and that is a fairly accurate description of the problem. It's just that it's not immediately clear what needs to be done to fix the problem. Next, we will deal with manual manipulations to solve the problem.
Method 1: check the service
A firewall is needed to protect your computer from viruses, unauthorized connections, and malicious activity from hackers. One of the most important features is internet protection. If he himself is broken, then all the listed functions are simply disabled, you need to return them to service as soon as possible.
Instructions:
In the line "Run" or search, enter services.msc and press Enter.
Turn on "Windows Firewall" and set "Startup type" – "Automatic".
We do the same for the "Security Center" (if necessary).
We activate the "Windows Defender Advanced Threat Protection Service" by setting the "Startup Type" – "Manual".
We turn on "Windows Defender Service" and "Windows Defender Network Checker".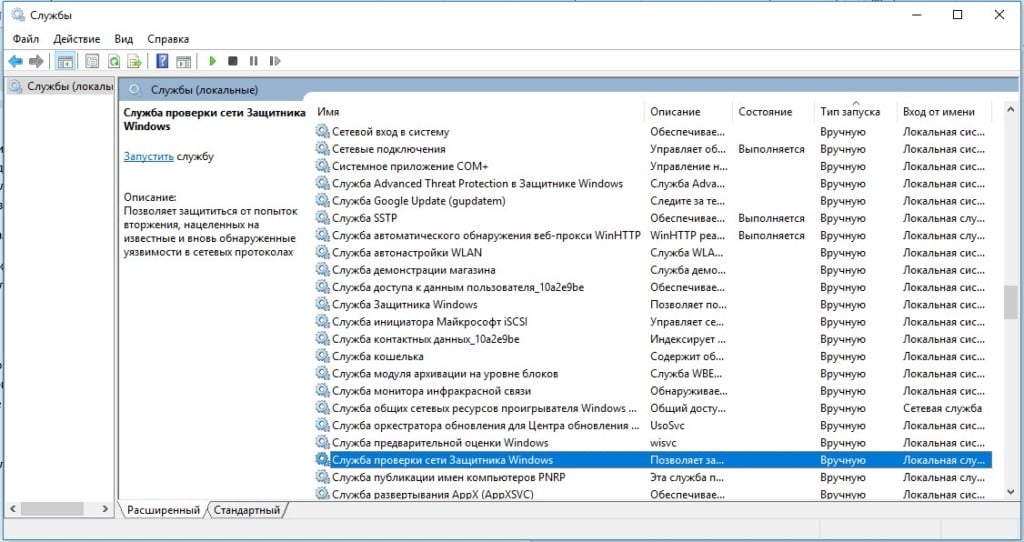 Method 2: using the registry
Changing one key in the registry can launch Windows Defender. This can work if the values ​​have been changed in it and it has been given the maximum privileges of one of the programs or manually. You just need to do everything exactly as written in the instructions. Wrong action can lead to undesirable consequences.
Manual:
Press Win + R to open the Run window and enter Regedt32.exe.
Follow the path HKEY_LOCAL_MACHINE SYSTEM CurrentControlSet Services WinDefend.
In the right workspace, look for the Start element and set the value to 2.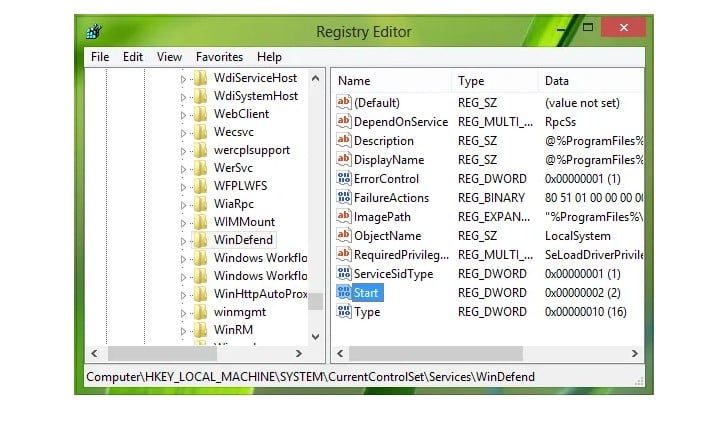 Method 3: register missing DLL files
Almost all functions in Windows require DLL files to work. If one of the programs damaged or overwritten the required file or changed its dependency, WinDef will crash. Most likely, it is enough to simply restore the associations. Below is a list of commands that must be executed one by one in the command line with administrator rights.
regsvr32 wuaueng.dll
regsvr32 wucltui.dll
regsvr32 softpub.dll
regsvr32 wintrust.dll
regsvr32 initpki.dll
regsvr32 wups.dll
regsvr32 wuweb.dll
regsvr32 atl.dll
regsvr32 mssip32.dll
Our main focus is on this method, so it is worth checking the situation on your system. Hopefully, error 0x800700aa will no longer accompany Windows Defender.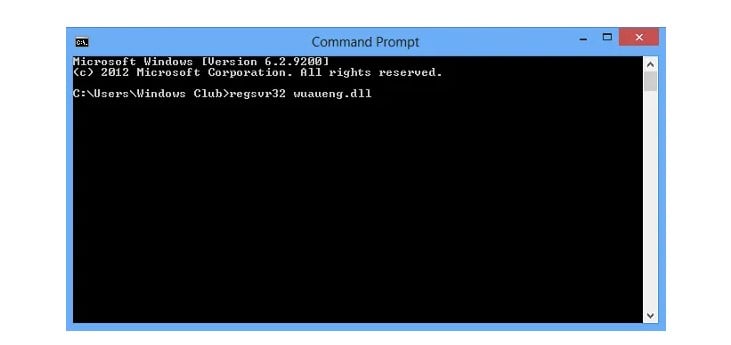 Method 4: reset Microsoft Defender settings
This is easy to do:
In the search, enter the words "Windows Security" and open the found item.
At the bottom of the page that opens, click on the "Reset" button.
Done! From now on, Windows Defender should work without any errors.
Earn points and exchange them for valuable prizes – details