your own or someone else's + view them anonymously
Instagram Stories is a free option that is available to all users. In Stories, you can post photos, videos, notes and create polls. This content can be viewed only during the day, so it arouses a lot of interest among users. But what if you don't want to show your stories to absolutely everyone? You can try hiding Instagram stories.
Can Instagram stories be hidden?
Today Instagram allows you to hide both your own and other people's stories. This can be done in order to get rid of the attention of competitors and ill-wishers. Other people's stories can be hidden so that they do not interfere with useful content.
How to hide Instagram stories?
You can hide stories very quickly with the help of the service itself, that is, you do not have to install any other applications or endure discomfort.
Method 1: from some subscribers
To hide Instagram stories from one, several or a group of users, it is worth following a few easy steps:
Click on the person icon or profile picture on the right in the corner.
After that, click on the gear icon, and then select "Settings".
Go to "Privacy", then "History".
Click on the number of people next to "Hide story from" and select those people from whom you want to hide stories.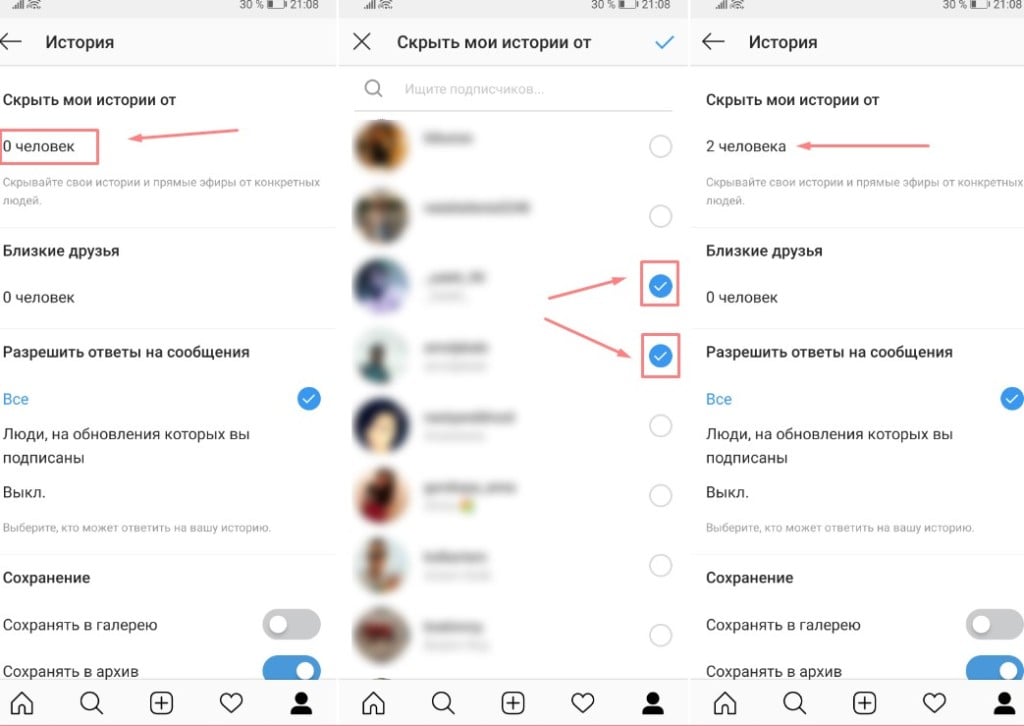 Method 2: for all users except the selected ones
By default, any user can see stories and photos. However, if you make your account private, you can independently choose who will watch the story. To close your account you need:
Go to your profile by clicking on the little man icon or your photo in the lower right corner.
Go to the "Settings" tab, and then to "Privacy".
Find the inscription "Make account closed" and put a tick next to it.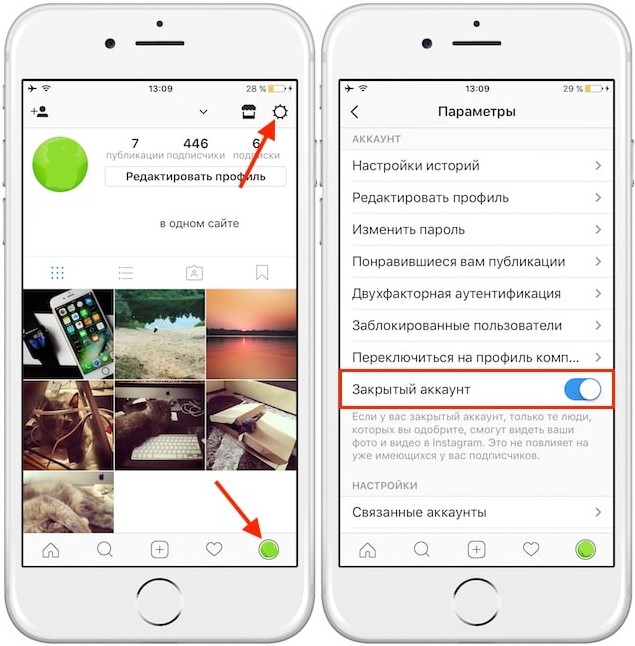 How do you know if someone is hiding stories from you?
There are several ways you can tell if someone has hidden stories from you.
Check if you have been blocked. If you are blacklisted, then the person who did it will not appear in the search bar. Therefore, in order to check whether a person has hidden stories, it is enough to enter his name in the search bar. If the account is not displayed, it means that the person has blocked you, and therefore, it will not be possible to view his story.
Use special services. There are several sites that let you know if a person has hidden their stories from you. To do this, you need to "Copy the Profile URL" of the person you will be checking. Go to the service website and paste the link into a special field. After that, it is enough to select the desired account and see if the stories were hidden.
Use a second account to view stories. However, this method is only suitable if the person's account is publicly available.
We quickly block other people's stories
If the story has become too much, and some of them are simply not interesting, they can be blocked. To do this, you need to perform the following actions:
Log into Instagram and find the list of users at the top of the feed.
Find the user whose story you want to block.
Press and hold the user, which will bring up the context menu and select the "Hide stories" item in it.
After that, the person's stories will no longer be displayed in the feed, and the user himself will not know that someone has hidden his content. Of course, provided that he does not use the advice above.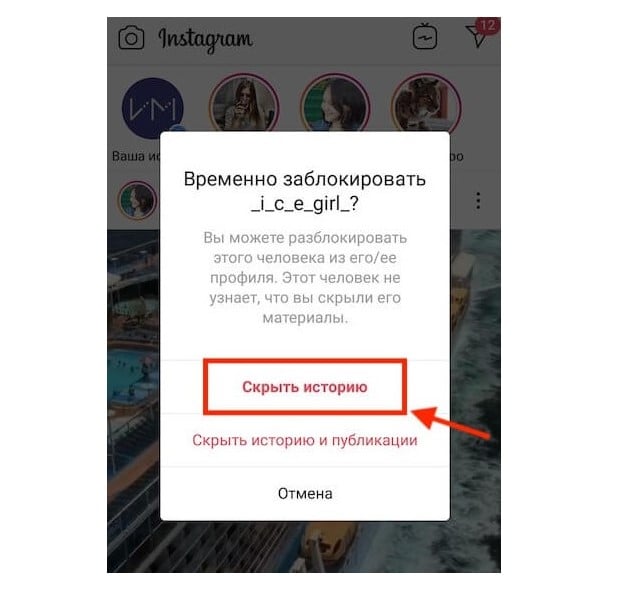 How to get hidden Instagram Stories back?
Sometimes, by hiding other people's stories, you can accidentally hide something important. If this happens, do not panic – it is easy to open them again.
Open the profile of the user who was blocked.
Click on the three dots in the right corner of the screen.
Select "Temporarily block".
Tap on the item "Unblock history".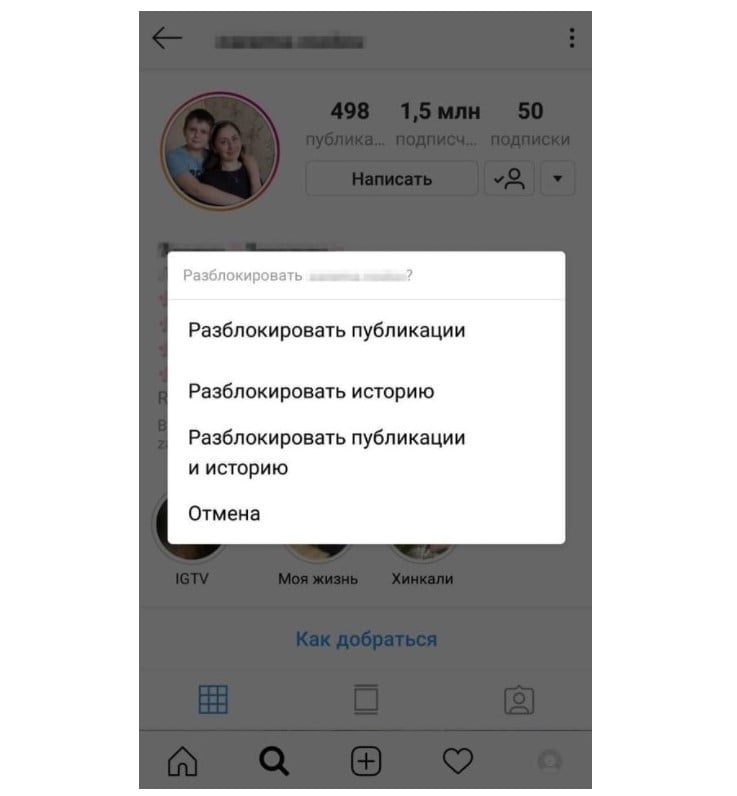 If Instagram is installed on the iPhone, then to return the story, it is enough to scroll through the feed from user stories to the very end (hidden content is displayed there). To find the user whose story you want to open, you should click on it, while holding it, to bring up the menu. The message "Unblock" will appear in the window that appears.
Can I watch stories anonymously?
Today you can view the user's story anonymously. There are several ways to do this.
Use special services (https://igrab.online/, https://insta-stories.online, https://instasaved.net/, https://instanavigation.com/).
Download apps for iOS and Android (StorySaver +, Story Reposter for Instagram).
Find a special Telegram bot that sends the stories of the required account in the format of a video file that is downloaded to your phone.
Today, it is very easy to hide a story on Instagram from everyone and from certain users. It is enough to follow the instructions above.
Earn points and exchange them for valuable prizes – details